Kind note and £10 left on Faversham ambulance windscreen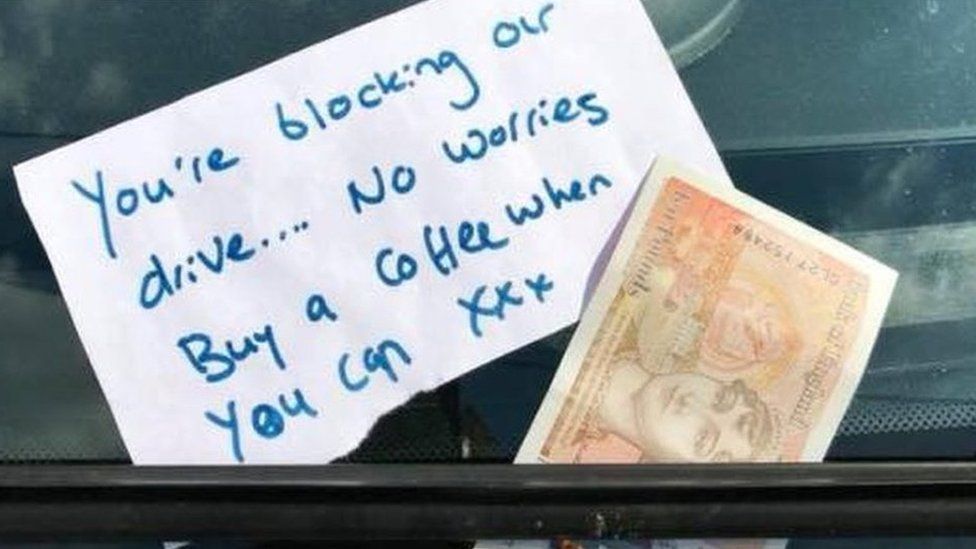 An ambulance crew that was forced to block a driveway while on a call out returned to find a £10 note on their vehicle's windscreen.
Gary Turley and his colleague had been attending to a patient in Faversham.
Along with the cash, the anonymous donor had also left a note which read: "You're blocking our drive… No worries. Buy a coffee when you can."
Mr Turley said: "It was just really uplifting and restored our faith in humanity."
He told BBC Radio Kent they had initially feared the worst.
"At the moment there's lots of negative notes on windscreens. Unfortunately it's the nature of the job," he said.
"We have to get to people quickly and sometimes it's not possible to park a little way down the road or find somewhere big enough to park an ambulance in."
He said the crew wanted to thank the person who left the note on 1 September, because their shift had been "busy and emotional" and it had "made their day".
Ambulance services across the UK have had their fair share of notes left on windscreens, with many being less than friendly.
In February, a woman who left a foul-mouthed note on an ambulance in Stoke-on-Trent admitted a public order offence. She was fined £120 and ordered to pay a victim surcharge.
Last year paramedics in the West Midlands were left shocked by a note telling them: "You may be saving lives but don't park your van in a stupid place and block my drive."