Phone found hidden in HMP Rochester prisoner's hair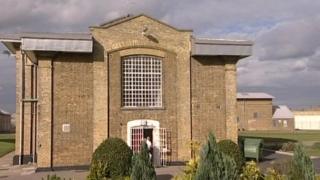 A mobile phone smuggled into a prison was found hidden in an inmate's hair.
The device was one of scores found at HMP Rochester in Kent by staff using specialist equipment to identify banned items, including mobiles.
The prison's Independent Monitoring Board (IMB) said the introduction of "detector poles" was a useful tool in cutting down their use in the jail.
The Prison Service said it was investing in more security measures to stop items being smuggled into jails.
"There are now three detector poles in place in visits, reception and segregation which are proving successful in locating mobile phones secreted on a prisoner's body," the IMB said in its 2017/18 annual report.
The report highlighted the "openness" of the jail saying most drugs and mobiles entered the site via packages coming over the prison walls.
Drug use 'extensive'
About half of all the items thrown into the category C prison for male inmates are intercepted, security staff have estimated.
The IMB said the number of finds of phones and illicit substances remained steady, year on year, but described drug abuse in the jail as "extensive".
"Their impact is felt across the prison in every way; being associated with violence, debt and an increasing number of prisoners self-harming," the board reported.
There had also been a "significant increase" in the number of weapons found, rising to 85 from 57 in 2016/17.
The IMB also described many of the buildings as being in a "deteriorating and dilapidated state", with problems with water supplies, heating and ventilation.
A Prison Service spokeswoman said: "We are tackling illicit mobile phones and recently announced £8m more for prison security.
"This is on top of increasing the number of sniffer dogs, rolling out body scanners and investing £2m in handheld and portable detection devices."