Firefighters tackle Margate industrial unit blaze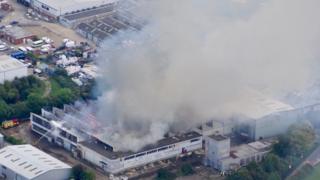 People living near the scene of a large fire at an industrial unit in Kent are still being urged to keep doors and windows closed.
Kent Fire and Rescue said on Sunday morning it was still actively fighting the fire in Westwood, Margate.
The blaze began at 06:30 BST on Saturday and has damaged at least 40% of the warehouse.
At its height, 80 firefighters and at least 12 fire engines were at the scene, with smoke visible for miles.
On Sunday morning, Kent Fire and Rescue said the number of fire engines had been reduced to five.
It said steady progress was being made, with crews continuing with active firefighting.
The fire has been surrounded and prevented from spreading to an adjacent building, a spokesman added.