Thames whale: Benny the beluga spotted slightly upstream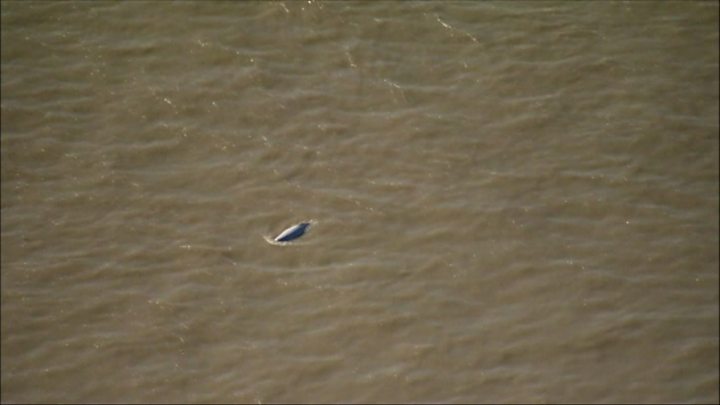 Conservationists are on standby to assist a beluga whale after it was spotted swimming in the River Thames for a third day.
The whale, nicknamed Benny, was first spotted in the Thames estuary near Gravesend, Kent, on Tuesday, "swimming strongly and feeding normally".
On Thursday, it was sighted slightly upstream of its previous location.
Experts said the whale appeared to be a sub adult - an older juvenile but not a fully formed adult.
Medics from the British Divers Marine Life Rescue (BDMLR) said it had been exhibiting foraging behaviour, likely feeding, as well as surfacing and diving consistent with a healthy animal.
The BDMLR and the Port of London Authority (PLA) have urged river users, including shipping companies, to steer clear of the beluga whale, which is thousands of miles away from its Arctic habitat
BDMLR director Gavin Parsons said: "While this whale is visiting, both organisations will continue to monitor and plan for possible assistance scenarios and then will work cooperatively to ensure the best outcome."
The conservation charity said there were currently no concerns for its well-being and it would respond to any further sightings, but did not have enough volunteers to monitor the whale 24 hours a day.
Julia Cable, national co-ordinator, said: "It's possible that it lost its way after a navigational error, that it has taken a wrong turn."
Beluga whales can grow up to 20ft in length and are usually at home in the icy waters around Greenland, Svalbard or the Barents Sea.
The RSPCA's Clare Dew told the BBC on Wednesday: "It appears to be feeding normally - it is not attempting to come anywhere near the banks and it is staying in the deep channel in the middle of the river."
Rescue teams have been on standby in case the animal gets into danger.
Lucy Babey, head of science and conservation at Orca, a marine conservation charity, said: "This is the most southerly recording of a beluga in the UK.
"These animals can navigate in shallow coastal water so hopefully it will swim away."
She said any noise in the water could impair its sophisticated sonar navigation system.
You may also be interested in:
Beluga whales were last spotted in the UK three years ago off the coast of Northumberland and Northern Ireland, but sightings were "extremely rare", the British Divers Marine Life Rescue said.
In 2006, an 18ft (5m) northern bottle-nosed whale died after becoming stranded in the Thames.
---
What is a beluga whale?
Belugas, also known as white whales, are "one of the most familiar and easily distinguishable" of all whales, according to National Geographic.
They range from 13ft (3.9m) to 20ft (6.1m) in length and have distinctive rounded foreheads. A beluga can change the shape of its "melon" by blowing air around its sinuses, according to the WWF.
Belugas are commonly found in coastal waters of the Arctic Ocean around Alaska, Russia, Canada, and Greenland. but are also at home in large rivers. They can move between salt and fresh water.
The beluga can swim backwards and can move their heads up, down and side-to-side, unlike other whales. They do not have a dorsal fin to help preserve body heat.
Calves are born dark grey and it can take up to eight years before they turn completely white.
Beluga calls variously resemble a cork being prized from a bottle or a creaking door, along with sounds described as clicks, squeaks, chirps, bleats, moans, groans, and whistles, giving them the nickname of "sea canaries".