Boris Johnson effigy chosen as Guy by bonfire society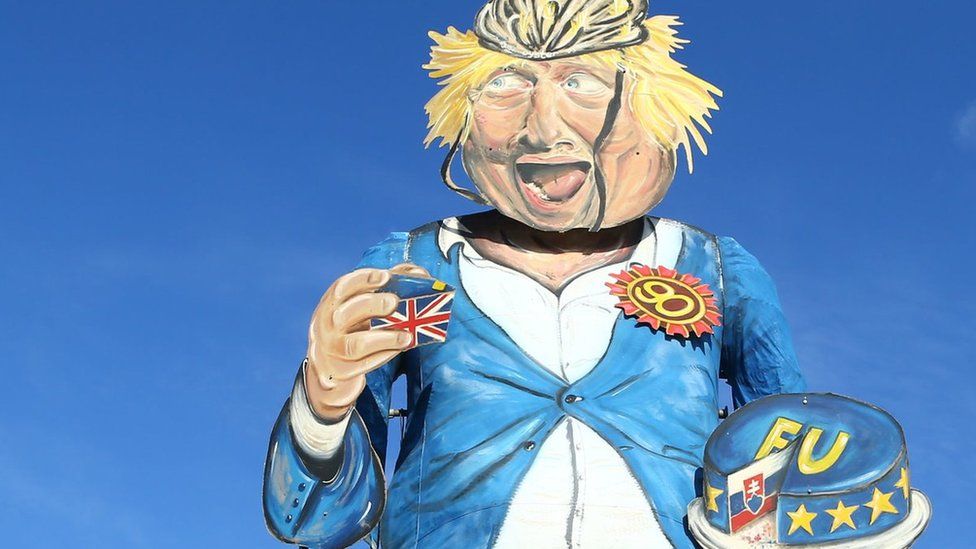 Boris Johnson has been unveiled as this year's Guy to be burned at Edenbridge Bonfire Society's celebrations.
The former foreign secretary is shown eating a slice of an "EU cake" and wearing his signature cycling helmet.
The bonfire society said Mr Johnson was chosen "as a result of his continuing habit to be in the news and his never-ending gaffes".
Bonfire societies are known for burning effigies of high-profile, political figures during their celebrations which include torch lit processions and fireworks displays.
The largest event takes place in Lewes, Sussex, each year on 5 November when as many as 60,000 people converge on the town for processions by six societies which keep the identities of their effigies a closely guarded secret.
The 11m (36ft) effigy of Mr Johnson, painted by artist Andrea Dean, features Hawaiian-style shorts, mismatched socks and red Brexit buses for his feet.
During Vote Leave's EU Referendum campaign, the buses carried slogans claiming Britain sent £350m a week to the EU which could be used to fund the NHS.
The rosette on the effigy marks the society's 90th year.
Chairman Bill Cummings said: "Our message to Mr Johnson is that you cannot have your cake and eat it."
He said he hoped Mr Johnson would take it in "good spirit".
On Facebook, society spokeswoman Laura Lawrence said: "He's always been quite high up on our list."
She said the flag in the cake was the flag of Slovakia, which is where artist Ms Dean is from.
Extending an invitation to Mr Johnson to attend the event, Ms Lawrence said: "We would love to see you there."
Related Internet Links
The BBC is not responsible for the content of external sites.