Fairground teacup ride 'spins into crowd' at Leeds Castle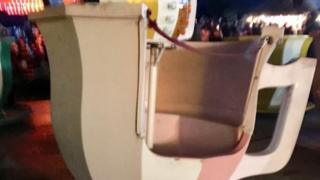 Three girls were hurt when a fairground teacup ride came loose and "spun into a crowd" at a fireworks display.
Parents screamed as the cup broke away from its platform at Leeds Castle, near Maidstone, on Saturday.
The girls were treated by paramedics for shock and apparently minor injuries. An eyewitness told of seeing children under a cup.
It happened on the same day eight children were hurt falling from an inflatable slide in Woking.
Dee Sturgess, who witnessed the incident at 17:15 GMT, said the ride "kept stopping unexpectedly" so she decided to move on to the next stall before she "heard screams".
She said: "We ran over through the crowd - who mostly were just standing frozen - to find children under the tea cup and screaming parents.
"There was a very long couple of minutes with children from the other cups on the ride screaming before the ride was switched off."
'Hysterically screaming'
She said some men lifted the cup off the children while another man pulled out a young girl who "was shaking and going into shock".
Meanwhile, she said "a mum with a very young toddler who was knocked under the cup was hysterically screaming".
Chelsea Thompson was queuing for the ride with her two daughters Ruby, aged two and Elsie, five.
She said the ride was "creaking and the cup was lifting up" before it came off the platform and struck the girls.
"It was all so fast," she said.
Ms Thompson said both children were still in shock but were checked over in hospital on Sunday morning and "nothing is broken".
Toni Chapman said on Facebook her daughter and granddaughter were on the ride when it happened.
She said: "She was horrified and my granddaughter was screaming even though she's too young to understand. A lady nearby just about managed to pull her pram out of the way."
Another parent, Joanne Samantha, said she had to walk away as her eight-year-old was screaming.
'Low-level'
"It was very distressing to see. In this health and safety-mad world, this simply should not happen," she said on Facebook.
In a statement Leeds Castle said "a low-level fairground ride had fallen from its revolving platform".
It said paramedics arrived at the scene "within moments", as did Leeds Castle's chief executive, and its health and safety officer.
It added: "Three people were directly involved and, while understandably shocked, none sustained significant physical injury and were able to watch the full fireworks display."
However, a relative of one of the girls in the teacup said: "The two girls needed monitoring for some time, meaning they did not see the fireworks as Leeds Castle suggests."
Safety inspection
Leeds Castle chief executive Sir David Steel said the ride was "operated by an independent contractor that [we have] used many times before".
He said it had passed a safety inspection in September.
"The ride has now been taken out of service and all the other rides at the small funfair will have been checked again ahead of tonight's display, " he added.