Tax fraudster who used multiple identities jailed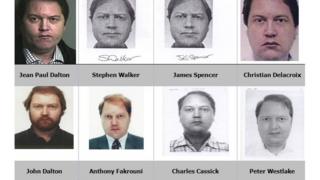 A tax fraudster who used a string of identities to spend nearly a decade on the run has been jailed.
John Dalton, formerly of Canterbury, committed a £3.8m VAT fraud before fleeing the country in 2007.
The 54-year-old resurfaced in Spain, where he was detained and extradited to the UK in 2017.
He was sentenced to five years and four months after he admitted being concerned in the fraudulent evasion of VAT.
Inner London Crown Court was told Dalton, who was born Paul Kemp, had used at least 12 different names throughout his life.
The court heard Dalton and another man were the main offenders in a conspiracy to falsely claim VAT repayments from HM Revenue and Customs (HMRC).
They did this by setting up a number of sham companies and using forged documents, the court was told.
Dalton was first arrested in 2007 but failed to answer bail after fleeing to France.
'Career criminal'
The 54-year-old was later prosecuted for fraud offences in France but left the country before his prison term could be started.
In November 2017, Dalton was detained in Spain under a European Arrest Warrant.
He was brought back to the UK in January after officers from Kent Police travelled to Madrid.
Det Sgt Steve Payne, of the Kent and Essex Serious Crime Directorate, said Dalton was a "career criminal" who had "cheated his way through life".
He said: "I hope this case demonstrates crime does not pay and that we do not forget about people who try to escape justice, no matter how many years have passed."
Three other members of Dalton's criminal enterprise were jailed in 2010 for a combined total of nine years and 10 months.