Eight more 'migrants' found in dinghy off Kent coast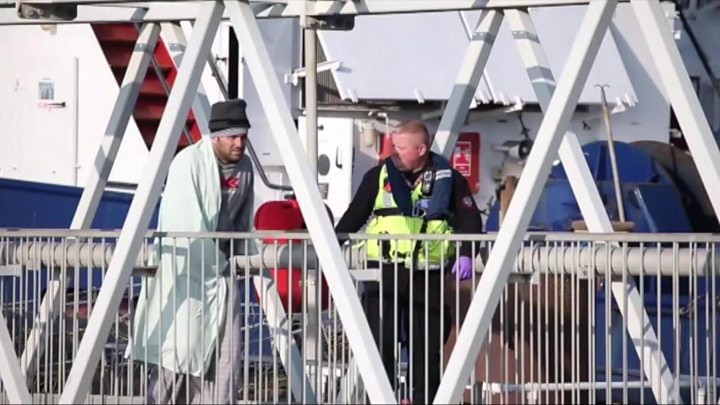 Eight suspected migrants claiming to be from Iran have been brought ashore after a dinghy was spotted off Kent.
The men were located by the coastguard and Border Force officers at about 07:15 GMT and brought into Dover.
A Home Office spokesman said they were checked by ambulance staff and found to be well.
It brings the number of suspected Iranian migrants to have reached UK shores this month to 101. All have been passed to immigration officials.
The recent surge in attempts to cross the Channel is being blamed on a rise in organised crime in France.
Ingrid Parrot, of the French maritime police, said "criminal and mafia networks" had been organising the trafficking.
"There are more and more thefts of boats, pleasure craft, speed boats," she said.
A spokesman for the National Crime Agency echoed her comments, but said gathering intelligence and the evidence required to prosecute such networks could take time.
"Crossing the Channel in this way is obviously highly dangerous," he said.
"It demonstrates the lack of regard for human life that these criminal networks have, but also their willingness to exploit the desperation of others.
"But while these attempts are high profile and high risk, the numerical threat posed by organised criminals trying to smuggle people into the UK remains largest at south coast ports rather than through the use of small maritime vessels."
On Thursday, 14 suspected migrants claiming to be Iranian were rescued from two dinghies.
A first boat, with six men and one woman, was intercepted by Border Force officers off the coast of Dover at about 01:30.
A second, with seven men on board, was spotted at about 08:00.
23 November
22 November
18 November
16 November
14 November
13 November
9 November
3 November