Five 'migrants' picked up off northern France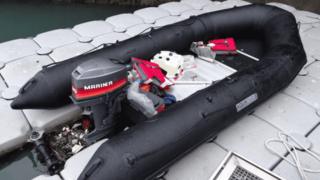 Five suspected migrants have been picked up from a small boat by French authorities off Audinghen in northern France.
A statement from the Prefecture Maritime de la Manche said a call for medical assistance raised the alert and a fishing vessel then found the group.
Two on board were suffering from hypothermia and all five were taken care of by emergency teams in France.
A rise in attempts to cross the Channel is being blamed on organised crime.
The vast majority of people trying to cross to Kent claim to be Iranian but the nationality of those rescued on Saturday is not yet known.
So far, the number of suspected Iranian migrants to have reached UK shores has reached 101.
On Friday, eight suspected migrants were brought ashore at Kent after a dinghy was spotted in the sea.
Stuart Bishop, from Dover Marine Services, said people were trying to cross in very small vessels, which were also more than likely overcrowded.
"So the stability of the vessels is not as good as it should be," he said.
"And we're talking about crossing the busiest shipping lane in the world."
He said the dinghies would not show on the radars of larger vessels that use the Dover-Calais shipping lane.
'Someone will perish'
"They're very undetectable and, from a safety point of view, it's very, very risky."
Tony Smith, former head of the UK Border Force, also warned of the dangers.
He said: "This is busy shipping lanes, very rough weather, potential hypothermia, these vessels are not equipped for cross-Channel activity.
"Although we've got our patrols out, it's essentially a search and rescue operation.
"There is a very real danger here that somebody is going to perish."
Timeline
24 November
23 November
22 November
18 November
16 November
14 November
13 November
9 November
3 November