Eight 'migrants' rescued after cross-channel air and sea search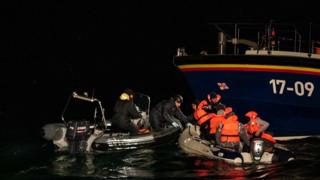 Eight suspected migrants have been rescued from a boat in the Channel, the French authorities have said.
Helicopters and coastal patrols were sent to find them along with a British RNLI crew after a French team raised the alarm at about 02:00 GMT.
After translators were brought in to get more information on their location, a fishing boat found them at 04:20 GMT.
All eight had hypothermia and one appeared to be wrapped in cling film for protection from the elements.
A statement from the Prefecture Maritime de la Manche said they were taken to Boulogne, where they were taken care of by firefighters and police.
It said their small boat was recovered by a French vessel.
The RNLI confirmed its Dover crew went out to help the French coastguard.
'Organised crime'
Warnings have gone out from UK authorities about the dangers of taking small boats on the Dover-Calais route - the world's busiest shipping lane.
Experts have said dinghies will not show on the radars of larger vessels in the Channel, and crowded dinghies are not equipped to make the crossings.
A recent surge in attempts to cross the Channel is being blamed on organised crime in France.
The vast majority attempting to make the crossings claim to be Iranian, and so far the number of suspected Iranian migrants to have reached UK shores stands at 101.
Five suspected migrants were pulled from the sea off France on Saturday, but their nationality is not known.
The French authorities have not given any more information about where the latest group set off from.
Timeline
25 November
24 November
23 November
22 November
18 November
16 November
14 November
13 November
9 November
3 November