George Low Ayia Napa death: Parents fly to Cyprus for inquest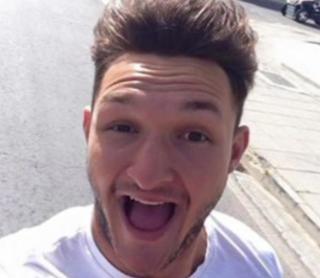 The parents of a Briton killed in Ayia Napa two years ago hope an inquest will answer questions about how he died.
George Low, 22, from Dartford, Kent, was stabbed to death in the popular resort town in southern Cyprus in August 2016.
Parents Martyn and Helen Low have flown out to the island for the hearing on Friday.
Nobody has been prosecuted over George's killing, although arrest warrants were issued for two men.
Helen Low said the family have "lots of questions" about what happened.
'Graphic pictures'
"All we know is George was stabbed and he died from those injuries," she said.
"We don't know any details but I think we need to hear them to help us.
"They've said there are going to be some graphic pictures, so it's going to be really hard."
Mr Low added: "It's something we need to do to be there for our son."
Lawyers have told the family the inquest is a preliminary step.
A spokeswoman said: "This will be an investigation into what the cause of death was. It won't determine who was at fault but there may be some questions for witnesses as to who was responsible."
Following the murder, Cyprus Police issued arrest warrants for Mehmet Akpinar, 22, and Bulgarian national Sali Ahmet, 42.
Turkish Cypriot authorities in the north refused to hand them over to the Greek Cypriot south and both men were allowed to leave the country.
Northern Cyprus has no extradition treaties in force, other than with Turkey.