'Sex in Maidstone' Instagram account investigated by police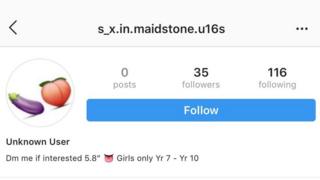 Police are investigating an Instagram account that was "reported to be aimed at girls aged under 16".
The profile, s_x.in.maidstone.u16s, invited teenagers in Years 7 to 10 to privately contact the user.
Charlotte Giles reported the profile to the photo-sharing giant and it was removed.
Instagram said child exploitation is not allowed anywhere on the site and that it works with police forces to help protect young people.
The account, which had 35 followers, bore a profile picture featuring aubergine and peach emojis - both commonly used to represent body parts in text conversations.
'Disturbing'
Ms Giles said she saw the profile and reported it to Instagram.
She also reported it to Kent Police.
Ms Giles has now launched a petition calling on the government to introduce legal standards for reporting suspicious social media accounts.
She said "disturbing accounts on social media which impact young children need to be investigated and removed with immediate effect".
Kent Police said it was contacted on 15 November "due to concern about an Instagram account reported to be aimed at girls aged under 16".
"Officers from the Paedophile Online Investigation Team are carrying out enquiries to identify who created the account, which has since been deleted," it said.
A spokeswoman for Instagram said: "Child exploitation is not allowed anywhere on Instagram and we removed the account @S_X.in.maidstone.u16's within 24 hours of it first being reported to us.
"We use powerful technology to fight inappropriate content and accounts on Instagram, and work with the police and Child Exploitation and Online Protection command (CEOP) to help protect young people."
The company proactively searches for and reports grooming activity, and all uploaded images are scanned automatically.
The firm also encourages the use of in-app tools to report accounts or content that violates guidelines.