Nine migrants stopped in English Channel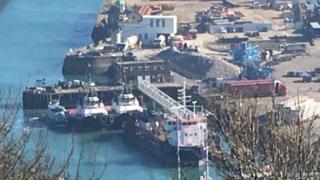 A boat with nine people on board has been intercepted in the English Channel, the Home Office has said.
Eight men were sent to be interviewed by immigration officials, while a ninth has been arrested on suspicion of people smuggling.
They were picked up by Border Force off Dover after French authorities alerted them to "a small boat in the Channel heading towards the UK".
It is the fourth day in a row that migrants have arrived by dinghy.
The latest arrivals were brought to Dover, where they were checked over by paramedics. Eight men, who all reported to be Iranian, will be interviewed by Home Office officials.
A ninth is being investigated over allegations of facilitating illegal entry to the UK.
More than 360 people have made it to England aboard small boats since November 2018, with at least 126 arriving so far this year.
On Tuesday a boat carrying 13 people, including a baby, was intercepted in the Channel and brought ashore.
On Monday, a group of 15 Iranian men were found on board two small boats. Four men were arrested on suspicion of facilitating illegal entry to the UK and have been released under investigation.
On Sunday, a family of seven were found near Kingsdown after an empty dinghy was spotted in the Channel.
The mother, father and five children were handed over to immigration officials.