Channel migrants: More than 60 people found on Boxing Day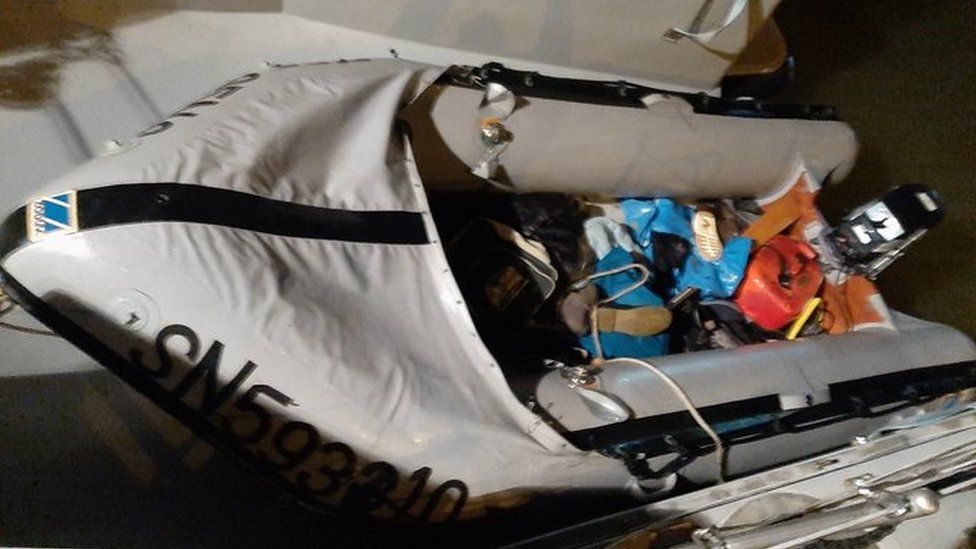 More than 60 migrants have been picked up while attempting to cross the Channel in small boats.
Forty-nine people in four boats were met by Border Force and brought to England, while a further two boats were dealt with by French authorities.
The Home Office said it would try to return anyone who arrived in the UK illegally back to mainland Europe.
Charity workers said the government's "tough talk" was "extremely irresponsible".
A search-and-rescue operation was launched in the early hours, with a coastguard helicopter, aeroplane and two Border Force vessels taking part.
An RNLI lifeboat was launched from Dover shortly before midnight on Christmas Day.
French authorities rescued 14 migrants, some of whom were said to be suffering from hypothermia, after a dinghy got into trouble off the coast of Boulogne-sur-Mer.
They were met by border police and medics on their return to the French port.
Since January, more than 120 people who arrived in small boats have been sent back to European countries, the Home Office said.
In the same period, more than 1,800 people have crossed the Channel in such vessels.
The Home Office said: "Illegal migration is a criminal activity. Those who seek to come to the UK illegally and the ruthless criminals who facilitate journeys are all breaking the law and endangering lives.
"When people arrive on our shores unlawfully, we will work to return them to mainland Europe."
It said patrols of French beaches had doubled, with "drones, specialist vehicles and detection equipment" deployed.
Kent Refugee Action Network's Bridget Chapman, who works directly with asylum seekers arriving by boat, said the Home Office's response was "disgraceful".
She said the government's "very tough talk" did not "take account of international law," citing the UN's 1951 Refugee Convention, which states that "refugees should not be penalised for their illegal entry".
She added: "There is no such thing as an illegal asylum seeker."
Ms Chapman said it was an "extremely irresponsible statement," which "appears to be politically motivated and designed to whip up ill feeling towards desperate people".
"I would remind the Home Office that Jesus was a refugee," she added. "Would they have turned him away?"
Clare Moseley, founder of Care4Calais, which often encounters migrants before they attempt the crossing, said it was "disappointing to see the Home Office criminalising refugees in this way".
She added: "Nearly all the people we work with in France have genuine asylum claims.
"The issue is that there is no safe and legal way for them to get [to England] and have their claims heard."
Related Internet Links
The BBC is not responsible for the content of external sites.