Channel migrants: Small boats intercepted off Kent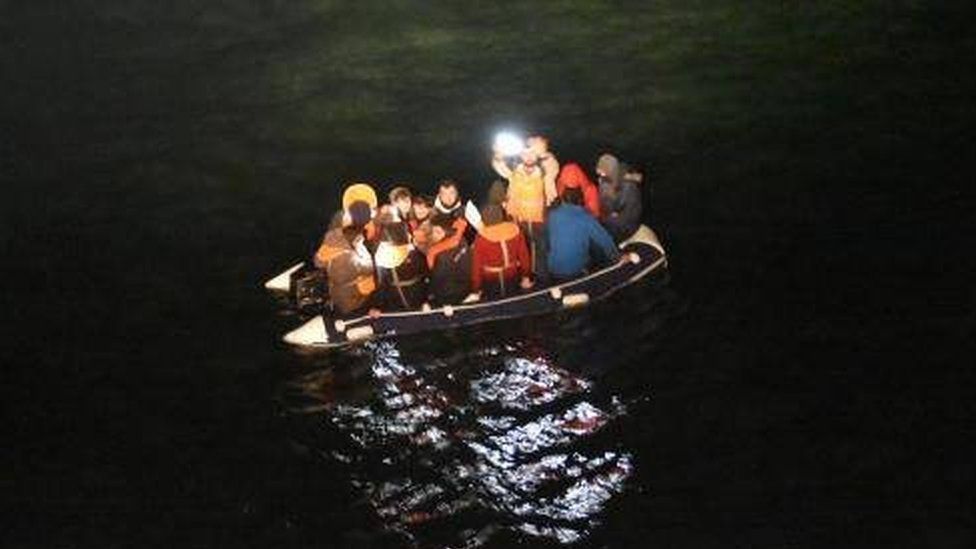 Six boats carrying 96 migrants have been intercepted by the Border Force in the English Channel.
All those on board, including 42 people on one boat, said they were either Iranian, Iraqi, Afghan or Kuwaiti nationals, the Home Office said.
French authorities confirmed they had picked up another 74 people on Wednesday.
The UK government previously said any migrants arriving would be monitored for the symptoms of coronavirus.
A Home Office spokesman said: "Coronavirus is not having an impact on our operational response to clandestine incidents and we still have the resources to deal with it."
French authorities said they were called to one boat with 14 migrants on board that had got into difficulty.
The 12 men and two children were suffering mild hypothermia and were taken to Boulogne-sur-Mer where they were transferred to police.
A charity supporting migrants, Care4Calais, said refugees in France were extremely vulnerable to Covid-19 because living outdoors had left many in poor health.
The charity wrote on Facebook: "With no running water, they can't wash their hands and sleeping rough they can't self-isolate.
"Not being able to protect themselves or their families is terrifying."
Meanwhile, Lucy Moreton from the ISU union, which represents Border Force workers, said staff on board the cutters did not have effective personal protective equipment (PPE) to prevent coronavirus infection when carrying out rescues.
She said: "They have an apron and gloves but you can't use them when you're hauling a person out of the water.
"There is no effective PPE. They are wearing an ordinary uniform and doing the best they can."
Home Office guidance is that teams are supplied with PPE in line with Public Health England guidelines, which recommend disposable gloves and fluid-repellent surgical face masks along with a disposable plastic apron and eye protection if available.
Dover and Deal MP Natalie Elphicke called for an immediate 14-day quarantin for all migrants "for the protection of our community and our country."
She said: "It's vital the Home Office and the French authorities take immediate action to stop these illegal crossings."
Related Internet Links
The BBC is not responsible for the content of external sites.