Channel migrants try to cross English Channel in fog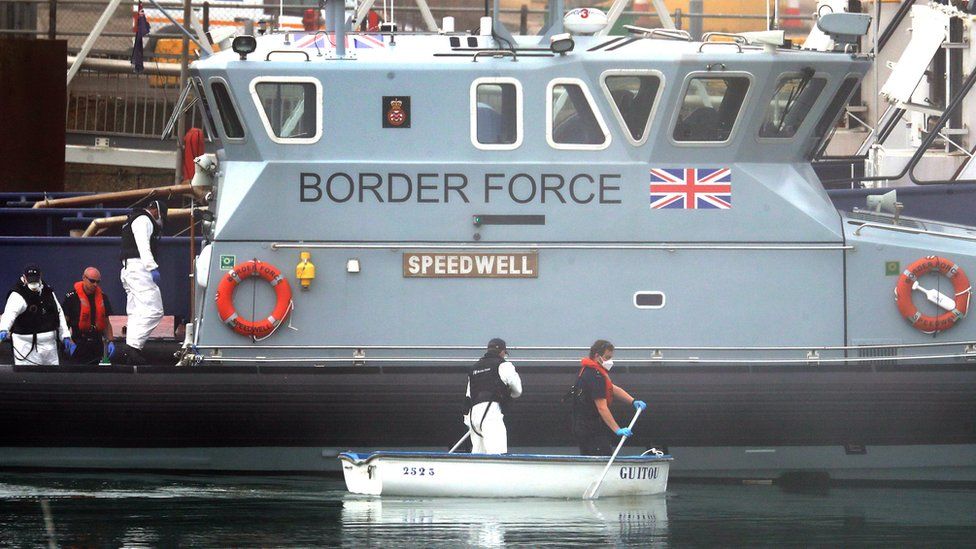 Migrants have tried to cross the Channel to the UK amid thick fog over the Kent coast.
Border Force teams were seen earlier with a group of people thought to have attempted the crossing, and officials were spotted towing a rowing boat filled with oars into harbour at Dover.
The small blue and white vessel was paddled through the port by officials.
The Home Office said four boats had been intercepted carrying a total of 45 people.
It is thought the rowing boat was intercepted in the Channel in one of the earlier incidents, which took place at 07:00 BST, 08:20 BST and 08:20 BST, and was carrying a group of men.
The Channel is the busiest shipping lane in the world and conditions can be treacherous for small boats even when visibility is clear - but fog shrouded the coast on Tuesday morning.
Meanwhile French authorities said they rescued four migrants from a boat that was spotted by a passing ferry. Those on board, who all had mild hypothermia, were taken back to Boulogne.
A Home Office spokesman said 45 people were brought to Dover passed to immigration officials.
They gave their nationalities as Cote D'Ivorian, Guinean, Kuwaiti, Iranian, Iraqi, Etritrean, Albanian, Sudanese and South Sudanese.
Minister for immigration compliance Chris Philp said: "French authorities stopped more than 1,000 migrants from crossing the Channel across the months of April and May and have stopped more today.
"We continue to work with them to tackle these illegal crossings and bring the ruthless criminals who facilitate them to justice."
Related Internet Links
The BBC is not responsible for the content of external sites.