Folkestone's Napier Barracks defended amid Covid-19 cases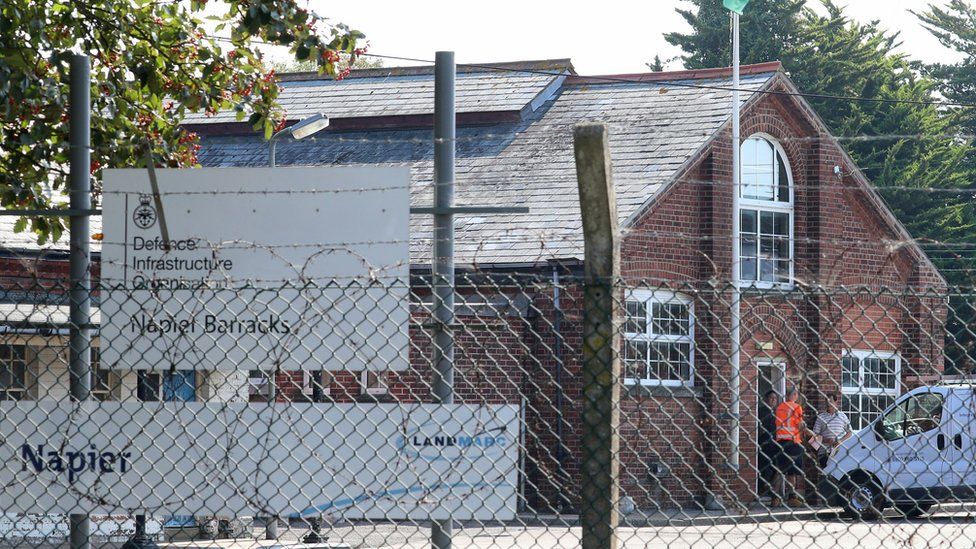 Home Secretary Priti Patel has defended using military barracks to house asylum seekers amid calls to close them.
It comes after a Covid-19 outbreak at Kent's Napier Barracks, where a number of people were "removed" and put into isolation.
It was claimed that some were moved out of the barracks in Folkestone at short notice over the weekend.
The Home Office denied reports people were given just 15 minutes to leave.
Coventry South MP Zarah Sultana said on Tuesday that "one in four people" at Napier Barracks had tested positive for Covid-19 as she called on Ms Patel to close the camp and "provide good, safe and liveable housing instead".
But Ms Patel told Parliament the accommodation was of a "very strong standard" and "in line with PHE guidance".
Ms Patel added: "The reason why we have removed a number of asylum seekers over the weekend is actually to protect others from catching coronavirus. That is absolutely the right thing to do."
The ex-military site has been used to house about 400 asylum seekers since September.
But concerns were further raised about its use after 120 people were suspected to have tested positive for Covid-19.
Earlier this month a doctor at the Helen Bamber Foundation, which works with refugees, described conditions at the barracks as "inhumane", and some residents have slept outside in protest.
One man, who has been living at the barracks, told the PA news agency "around 59 people" were transferred off site over the weekend.
The Home Office has previously said the accommodation is "safe, suitable, and Covid-compliant".
Related Internet Links
The BBC is not responsible for the content of external sites.