Pippa Knight: Mother takes right-to-die case girl out for walk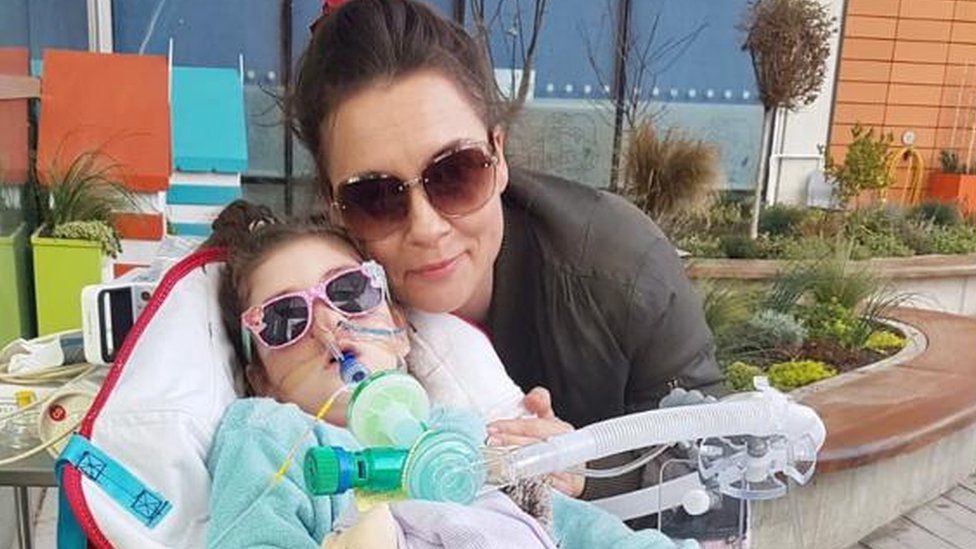 The mother of a brain-damaged girl who is waiting for a Court of Appeal decision after a judge ruled she should be allowed to die says they have been taking walks in the spring sunshine.
Paula Parfitt, from Strood, Kent, wants doctors treating Pippa Knight to allow her to use a ventilator at home.
Pippa is in a vegetative state at the Evelina London Children's Hospital.
Ms Parfitt has been able to go outside the hospital with her daughter attached to a portable ventilator.
Five-year-old Pippa became ill when she was 20-months-old and was diagnosed with acute necrotising encephalopathy.
Ms Parfitt said: "A few weeks ago I didn't think these walks would be taking place at all,
"We've been out three times in the last week with a portable ventilator.
"This shows people what is possible."
She said a similar arrangement might make it possible for Pippa to live at home.
"A more modern ventilator which I would have at home would be even better and offer Pippa even more movement and help her even more," Ms Parfitt said.
A High Court judge ruled in January that Pippa could legally be taken off life support in hospital and allowed to die, after doctors treating her said there is no evidence that she would recover or improve.
Appeal Court judges Lady Justice King, Lord Justice Baker and Lady Justice Elisabeth Laing heard the case in February and have yet to make their decision.
Vikram Sachdeva QC, who is leading Ms Parfitt's legal team, told the Appeal Court judges Pippa would not live for a long time, possibly months, and she wanted her daughter to die at home.
Related Internet Links
The BBC is not responsible for the content of external sites.