Campaign to close Halstead farm where cows 'live in mud'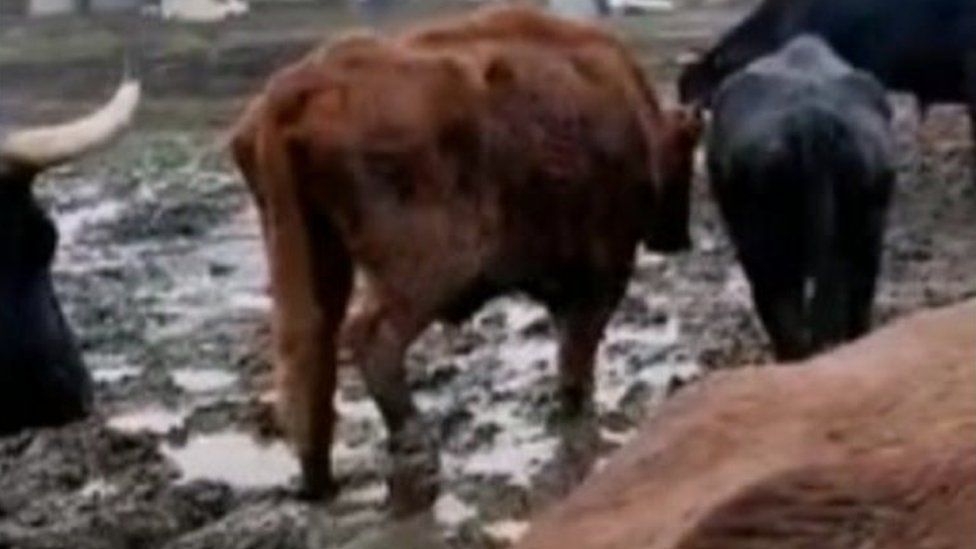 A farmer is facing repeated accusations of leaving his cattle without food and deep in mud.
More than 57,000 people have signed a petition calling for Oaks Farm in Halstead, Kent, to be closed down.
The Conservative MP for Sevenoaks, Laura Trott, has called for action from the government's Animal and Plant Health Agency (APHA).
The farmer, Craig Sargent, said he has done nothing wrong and his cows have an "idyllic life".
Kent Trading Standards said it was "monitoring the welfare of the animals" at the farm near Sevenoaks.
The animal rights group Kent Animal Defenders, which filmed animals at the farm in February, is supporting local people who say animals on the farm have been suffering for years.
Lynn Hamilton-Berre, who became involved in the campaign in 2018, said: "It really genuinely brings me to tears because you see them. They're limping, they've got no hay and no food.
"They're in this slurry and their eyes just look so empty and they're so skinny," she added.
A spokeswoman for Kent Animal Defenders said: "There's a nursing cow in there with a calf that's probably a couple of days old and she has no food at all."
Mr Sargent said: "They have an idyllic life here, really, because they're out in the field all day - they're not kept confined in a building. They have complete freedom to wander around."
He said his animals were given a "substantial amount" of food and had access to water and dry places to lie down.
Ms Trott said APHA had "visited 17 times in the past 13 months and I've been constant contact with them about what more can be done."
An APHA spokesperson said: "We take potential breaches of animal health and welfare legislation very seriously. Where regulations are breached, appropriate action is taken."
Related Internet Links
The BBC is not responsible for the content of external sites.