Julia James: Tribute walks for PCSO take place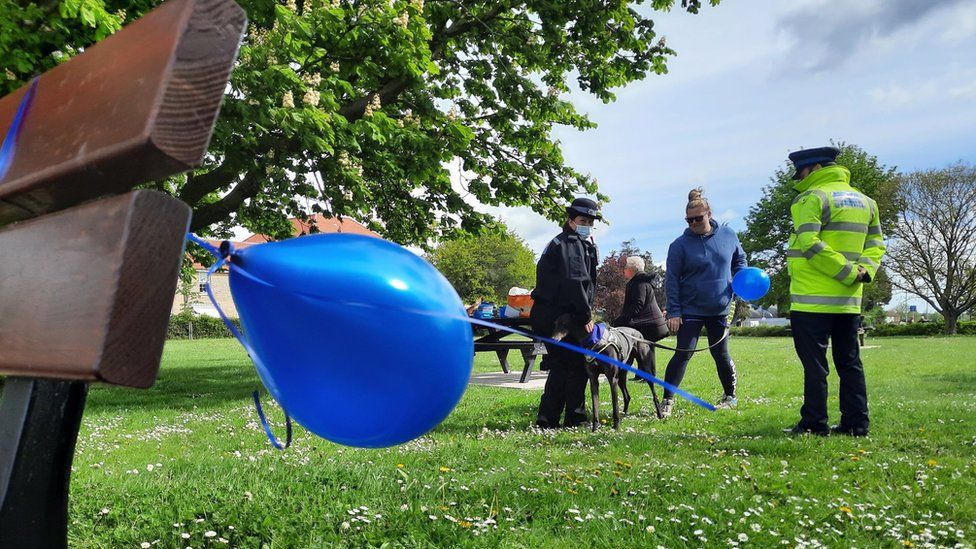 Walks in memory of police community support officer Julia James have taken place in the UK and abroad.
Ms James, 53, was found dead next to Akholt Wood, in Snowdown, Kent, after taking her dog for a walk on 27 April.
Her cousin Sam Griffin, who helped to organise the events, said more than 140 walks were taking place.
About 100 walkers and their dogs gathered near Ms James's home in Aylesham.
The first walks took place in Australia, according to another organiser, Sally-Anne Bedford.
Nicky, who was on the Aylesham walk, said: "We're a community. We're all coming out together to show our respect for Julia and our strength as a community."
Hundreds took part in another in Ashford, Kent, according to a Twitter post by Sam Griffin.
After a minute's silence, the walk in Aylesham split into two groups, with walks of different lengths.
The route through Spinney Wood, close to Ms James's home, was marked with posters and blue ribbons.
Blue ribbons are being tied to be benches and fences ahead of the Walk for Julia, representing her work in the police force.
Despite the tragic reason for this walk there is a happy atmosphere, with people sharing stories of Julia and talking about feeling safe to walk together.
Muddy trails and a few puddles have done little to deter people from taking part.
Gill Hudson, one of the organisers of the walk in Aylesham, said; "She was a member of our village and the community and she was well-loved by all of us.
"It's really important that we say to people you can go out, you can walk, without something terrible happening.
"We just want to remember her. She was so kind and so loving."
Ms Hudson said she had known Ms James since they were at school together.
"I'll have memories of Julia playing in our back garden with my sister, playing with their Syndi dolls. They were slightly younger than me and I was the one that ran out and spoiled all their games."
On Friday Kent Police issued a fresh appeal for dashcam footage from the week before Ms James's death.
The force is seeking footage captured in Aylesham between Tuesday 20 April and Tuesday 27 April by anyone travelling in Adisham Road, Dorman Avenue North, Cooting Road and Spinney Lane.
Kent Police Officers have visited about 2,000 homes in the search for information, Assistant Chief Constable Tom Richards said.
Callum Wheeler, 21, from Aylesham, has been charged with Ms James's murder.
Related Internet Links
The BBC is not responsible for the content of external sites.