Channel crossings: Migrant crossings continue amid good weather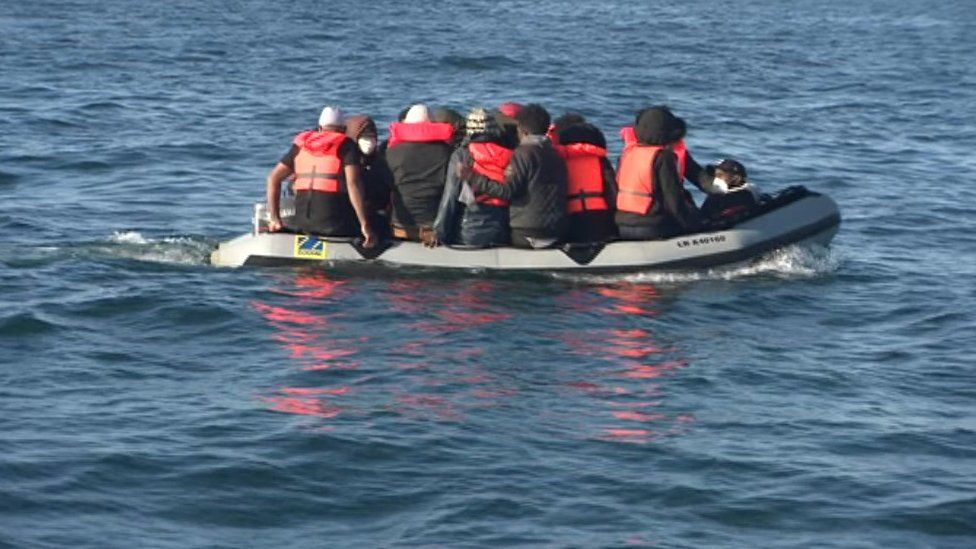 More migrants crossed the English Channel by boat on Tuesday.
Six boats carrying 132 people were intercepted mid-Channel by the UK Border Force, in sea conditions described by the Coastguard as smooth and slight, with good visibility.
The Bank Holiday weekend saw 568 people make the crossing, according to the Home Office.
The Home Office said French authorities also prevented seven further crossings, involving 36 people.
BBC reporter Simon Jones described seeing a small boat with 12 people on board being followed by a French vessel until it reached UK waters.
He said the Border Force arrived about an hour later.
So far this year, according to government figures, more than 3,500 people have made the crossing.
Dover MP Natalie Elphicke said there was a worrying trend in the age and gender of those arriving across the Channel.
She said: "We've seen an increase in the number of unaccompanied young women and girls who have come into the country through this route.
"And that is worrying because they're coming in from what are known to be the Eritrean and Vietnamese routes that are closely associated with modern slavery and sex trafficking."
A Home Office spokesperson said: "Inaction is not an option whilst people are dying. The Government is bringing legislation forward through our New Plan for Immigration which will break the business model of these heinous people smuggling networks and save lives."