Afghanistan: Call for more UK councils to welcome refugees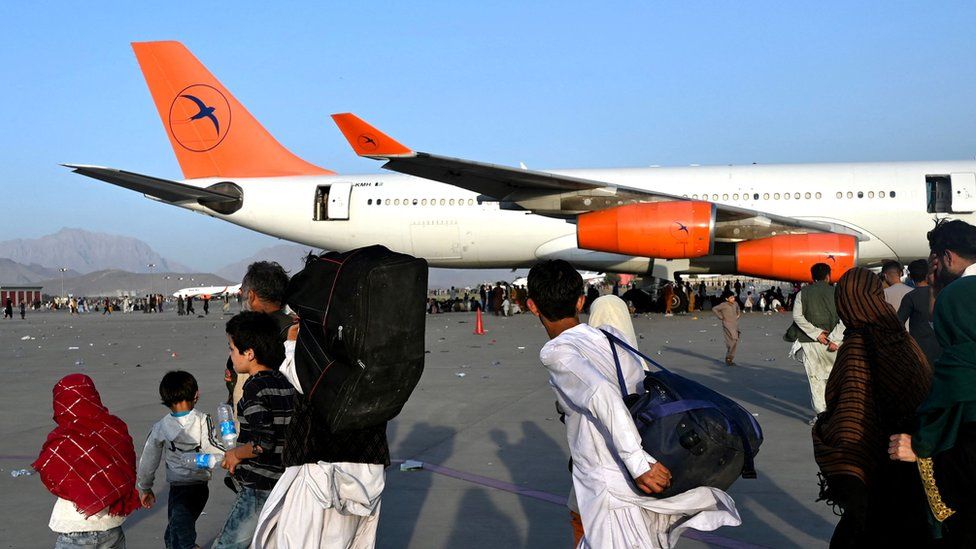 The leader of a council set to welcome refugees from Afghanistan has urged other authorities to follow suit.
Gerry Clarkson, of Ashford Borough Council, said there was a "moral imperative" to support the families of Afghans who had helped British forces.
Images of people trying to flee the Taliban were "very moving," he said.
The Home Office said the number of refugees allowed to settle in the UK would be "guided by the capacity of local authorities".
Ashford will welcome between five to ten families this year, according to Mr Clarkson.
"If every district council in the UK took that amount, then it would be remarkable how we would accommodate them all," Mr Clarkson said.
"This is a no-brainer," he said, continuing: "We need to help people otherwise they are likely to be killed and that is the bottom line."
Liverpool City Council and Glasgow City Council have said they are preparing to support vulnerable people fleeing Afghanistan.
Glasgow has already welcomed 62 refugees since June as people potentially at risk of reprisals fled ahead of the withdrawal of foreign troops.
Three councils in Surrey have pledged to help Afghan refugees, with five families accommodated in Surrey Heath and three in Elmbridge, while Woking Borough Council is in the process of finding suitable properties with private landlords.
Mr Clarkson said the first family from Afghanistan had arrived in Ashford last month, with two more "in the pipeline", currently in Covid isolation.
The Conservative council leader said he would "have to dismiss" the views of a minority of people who object to supporting Afghan refugees, adding: "The silent majority are very much in favour of doing things like this.
"Nobody could see those images on the television and not be concerned about what's happening."
Ashford had a "proud history" of welcoming refugees, with about 60 families arriving from Syria since 2015, he said.
Related Internet Links
The BBC is not responsible for the content of external sites.