Steroid cream: Women send out warning after severe reactions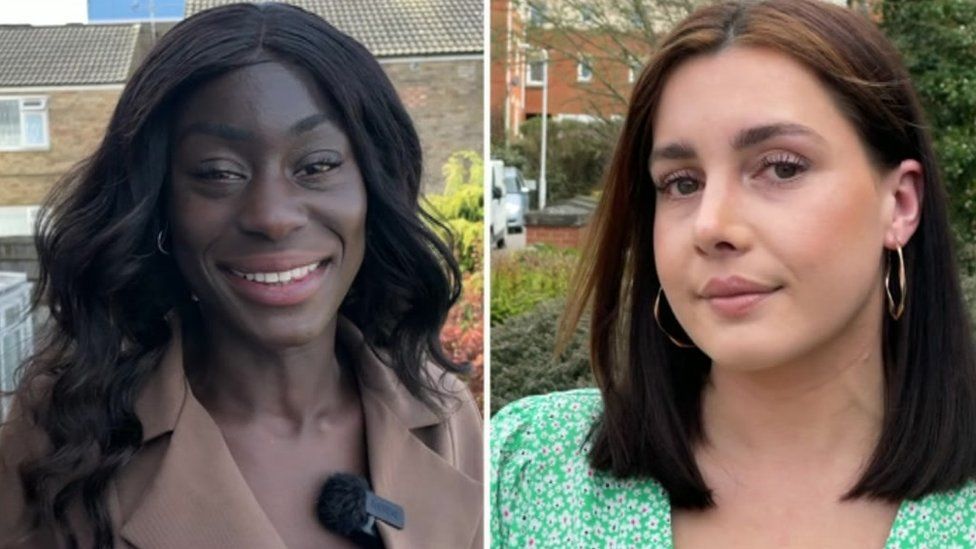 Two women who had extreme withdrawal reactions after using steroid creams to treat skin conditions are speaking out to warn others of the risks.
Aramidé Onashoga and Bethany Jones, from Kent, are still continuing their recovery, years after stopping topical corticosteroids.
They had Topical Steroid Withdrawal (TSW), and experienced skin shedding, splitting and infections.
The chair of the Dermatology Council said TSW is under-diagnosed.
Miss Onashoga, from Chatham, initially started using the cream at university, after comments were made about her eczema.
But when she came off the treatment, parts of her body swelled.
"It was like the top layer of my skin wasn't there. My skin would leak a lot of fluid and I would get repetitive infections," the 31-year-old said.
Bethany Jones, from Tunbridge Wells, used the cream on and off since she was a young child to treat her eczema.
She was prescribed it until 2020, but she came off it after it stopped being effective.
She said: "I looked like I was burnt over about 95% of my body.
"My skin was shedding, it was oozing and splitting. I'd move and my skin would tear."
She was unable to leave the house for six months, she said.
According to the NHS, topical corticosteroids are an effective treatment for skin disorders, but withdrawals can "sometimes" be severe.
Dr George Moncrieff, of the Dermatology Council, said TSW could affect as many as one in 10 patients.
He said: "The profession does need to alert itself to this condition.
"The only thing that seems to calm it down is putting more steroid on, but that makes it even worse in the longer term, so it's a vicious cycle.
"They can go cold turkey, but it can last many months and be pretty horrible."
Both women are now managing their conditions holistically.
Miss Onashoga said: "The first point of treatment should be allergy testing to know and understand our triggers."
Miss Jones now avoids alcohol, gluten, certain deodorants and washing powders to avoid flare ups. She uses emollients, takes supplements and has a water filter on her shower.
She added: "I would much rather have lived with my eczema symptoms for a lifetime than gone through this."
Related Internet Links
The BBC is not responsible for the content of external sites.