Channel migrants: Almost 1,300 migrants cross Channel in new record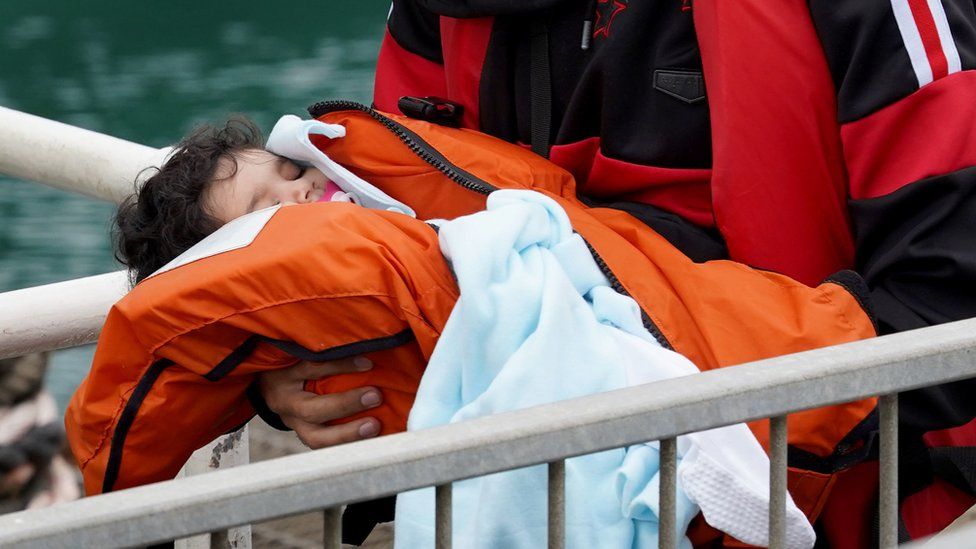 Almost 1,300 migrants crossed the English Channel in small boats on Monday, setting a new record for crossings in a single day.
The Ministry of Defence said 1,295 migrants made the crossing in 27 boats, topping the previous high of 1,185 last November.
It is the highest daily total since current records began in 2018.
So far this month 6,168 people have made the crossing in small boats, compared to 3,683 in July.
More than 22,560 people have journeyed across the English Channel so far this year, At the equivalent point in 2021, the cumulative total was just under 12,500.
Babies and young children wrapped in blankets and wearing woolly hats were among those seen being brought ashore at Dover on Monday.
The crossings came after three days when no crossings were made due to bad weather.
On Tuesday a further 80 people were known to have made the crossing.
By Simon Jones, BBC South East, in Dover
The government was always braced for a surge in summer arrivals - but ministers had been hoping the threat of sending some asylum seekers to Rwanda would act as a deterrent, keeping the daily figures down to below 1,000.
A recent coordinated international operation targeting suspected people smugglers, seizing boats that would have been used in the crossings, was also expected to result in a dip in numbers, but they have continued to grow.
I watched on Monday as several groups of people were brought to shore by the Border Force.
There were a number of families, but the vast majority arriving were young men.
The government has spoken time and time again about making the route unviable. but that hasn't happened and so the issue will need to be a priority for the new prime minister.
Repairing tense relations with the French authorities might be a good starting point.
Several asylum seekers, the Public and Commercial Services union and charities Care4Calais, Detention Action and Asylum Aid are challenging the legality of the Home Office policy, with the next court hearings due in September and October.
Many migrants come from some of the poorest and most chaotic parts of the world, and many ask to claim asylum once they are picked up by the UK authorities.
Steve Valdez-Symonds, Amnesty International UK's refugee and migrant rights director, said: "Despite the government's shameful posturing and draconian refugee policy-making, the simple truth is that people, including children, fleeing war and persecution will continue to make these perilous journeys - whether by boat or other means - if the government refuses to provide safe routes for them."
A government spokesman said: "The rise in dangerous Channel crossings is unacceptable. Not only are they an overt abuse of our immigration laws but they risk the lives of vulnerable people, who are being exploited by ruthless criminal gangs."
He said the Nationality and Borders Act was breaking the "evil" business model of people smugglers, with 38 people arrested.
He added: "Under our new Migration and Economic Development Partnership with Rwanda, we are continuing preparations to relocate those who make these unnecessary and illegal journeys, helping to save lives by deterring others from crossing."
Related Internet Links
The BBC is not responsible for the content of external sites.