Groomed teenager from Lancashire speaks of ordeal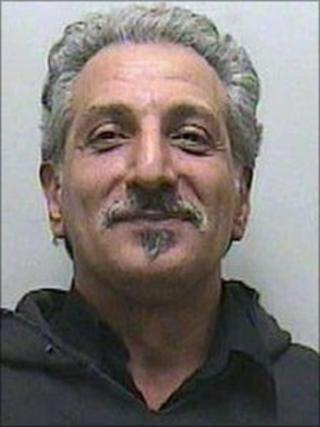 A teenager has described how she was "brainwashed" by a 52-year-old chef who sexually abused her and fed her drugs.
The victim, who was 14 at the time, said it "almost destroyed" her life.
Hossein Sabourian, who ran the Mi Casa takeaway in Blackburn, was jailed in December 2009 for engaging in sexual activity with a child and supplying class A drugs.
Lancashire Police's new unit, Operation Cherish, said she is one of 200 victims it has helped in the past year.
Speaking of her ordeal, the girl said it had changed her "as a person" and that she now found it difficult to open up to people or to put her trust in them.
Sabourian's abuse left her in such a state she had even sought relief through self-harm.
Her mother had permitted her to work at Sabourian's takeaway as long as it "didn't interfere with her schoolwork".
Hide in hotels
He had a wife and two daughters who would also work with him, as the young victim's mother said: "It was just a facade, it gave him a disguise to prey on my daughter."
Little did they know that within less than a year Sabourian had convinced her to have sex with him and take cocktails of drugs at his behest.
She said: "It makes me feel sad how much trust I put in him, how they can do that to another human being, he brainwashed me.
"It started with him texting me out of the blue when I was off work and at home.
"Then to be polite I would text back, we started to develop a friendship, but a few months later the texts started getting a bit flirty.
"He would say stuff like you should be a model, you're so pretty, I'll go and help you, get a portfolio then it turned more sexual."
He introduced her to drugs, and by the time her mother found out he had been abusing his victim regularly. They would hide out in hotels as he exploited her.
'Ruining lives'
She added: "You can't just trust anyone you have to be careful.
"Now I don't feel anything towards him be honest, I want to make sure he can't carry on ruining people's lives like he nearly did with mine.
"No one deserves that kind of upset in their life."
Her mother added: "Without the help of Lancashire Police and various support agencies then I don't know what would have happened.
"We had to make her realise that it wasn't a relationship it was abuse."
'Immense bravery'
Sgt Vicky Leighton, who has been working on Operation Cherish, said the 200 children it had helped were from the West Lancashire, South Ribble and Chorley areas.
She said: "Sexual exploitation of children and young people involves exploitive situations, contexts and relationships where young people receive something, be it drugs, accommodation, affection or money in return for sexual activities.
"The victim in this case has shown immense bravery in coming forward. Victims, parents, members of the public teachers, doctors and other professionals are all our eyes and ears.
"If together we can save just one young person from abuse, it has been a success."
Sabourian was initially jailed for eight years. This was reduced to four years and ten months following a review.