Burnley murder victim's father upset at India reports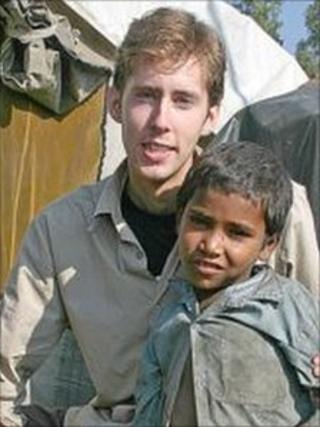 Reports that police in northern India have reopened their investigation into the murder of a British charity worker are "distressing", his father has said.
Michael Blakey, 23, from Burnley, was found dead in a gully near a church in Dharamsala in November 2006.
No-one has been convicted over his death but reports in India suggest police are re-interviewing people.
The victim's father, Paul Blakey, is yet to be contacted but told the BBC he just wanted a conclusion to the case.
"His killer is still at large and I hate the word closure but I wish some sort of conclusion could be drawn with these investigations," said Mr Blakey.
"It's quite distressing that these investigations keep appearing and to no avail - there is no result to any of them."
Michael Blakey had been in northern India for five months working with the Tong-Len Charitable Trust, helping refugees, before his death.
He was found with severe injuries to his head and face, hidden under a pile of stones, three days after being reported missing by friends.
Almost four years on from his killing, Mr Blakey now relies on Indian press reports for any information on the investigation.
"The case is closed in England so I appreciate there is nothing from the English side, but other than that, that's all the information we get," he said.
Asked whether he believed police would ever capture the killer, Mr Blakey added: "I think the stable door has been shut long after the horse has bolted.
"All the trails have gone cold, I very much doubt [they will be found]."
Dharamsala lies at the foot of the Himalayas in the far north of the country. It is the long-term home of the Dalai Lama and is the centre of India's Tibetan community.
No-one from Dharamsala police could be contacted.