Bridge murder accused 'made previous threats'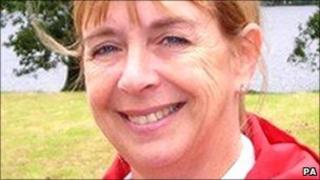 A bridge player accused of killing his wife threatened to throw her off a balcony during a card session a year earlier, a jury heard.
Stephen Green, 52, "exploded" at wife Carole, 57, as they played cards with another couple at their Lytham home in 2008, Preston Crown Court heard.
He is alleged to have stabbed his wife to death in January after bickering about her playing abilities.
Mr Green, of Beach Court, denies murder and assault.
Fellow Lytham Bridge Club members Diana and Peter Sizer told the court the defendant's attitude towards his wife had changed over three years.
His drinking would lead to "vicious" criticism of his wife's ability and a deterioration in his own game, they told the court.
Mrs Sizer, who said she had known the pair as a couple since 1997, said the atmosphere between the couple changed in about 2007.
Mrs Sizer said: "Stephen became increasingly more critical of Carole. He put her down, said she was stupid, said she did not understand.
"Normally she went very quiet. She would tell me afterwards a lot of things. She said she would argue back at home."
Around Christmas 2008 one card game at the couple's home was interrupted by an outburst from Mr Green, Mrs Sizer told the jury.
"He became extremely aggressive and called her the C-word," Mrs Sizer said.
Assault conviction
He then said "any more from you and I will throw you off the balcony", she added.
"He had not been aggressive towards her in front of me before."
Stuart Denney QC, prosecuting, asked: "Was it said in a jokey way?"
"No," she replied, "Steve could be quite intimidating."
Green admitted common assault against his wife in April 2009 after a drunken attack at home. After the incident the Sizers did not visit the Greens' home again.
Mrs Green tried to get her husband to seek professional help and spoke to a solicitor for advice on a divorce.
"She did not want a divorce, she wanted her old Stephen back, the Stephen that was not violent or drunk. She loved him even after what had happened," Mrs Sizer added.
'Bizarre accident'
Mr Sizer told the jury the defendant's drinking would affect his bridge playing, and lead to criticism of his wife.
"When he thought she had made errors or was not playing well, he could be quite vicious verbally," he told the jury.
Mrs Green's body was discovered at their home on 18 January. She had suffered about 100 injuries including "savage" injuries to her neck, the court heard.
When interviewed, Mr Green said his wife had rushed at him with a knife and, in a bizarre accident, he had fallen on top of her and the weapon was forced into her back.
Believing she was already dead, he then stabbed her in various parts of her body while drunk, he claimed.
The trial continues.