Shot Nelson family relatives meet minister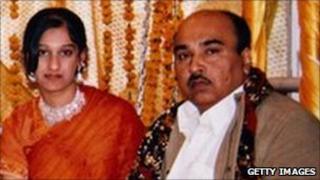 Members of a Lancashire family whose relatives were shot dead in Pakistan have met with the Foreign Office minister in their fight for justice.
Mohammad Yousaf, 51, his wife Pervez, 49, and daughter Tanya, 23, were killed at a cemetery near Gujrat on 20 May after a family dispute.
One gunman was killed, one was arrested at the scene and another two went on the run.
The family previously said they are concerned they may not see justice.
They have started a campaign on social networking site Facebook called Justice for the Yousaf Family.
In a family statement issued through the page, they said the meeting was "positive".
A spokeswoman for the Foreign and Commonwealth Office (FCO), said: "We can confirm a meeting between FCO minister, Alistair Burt and members of the Yousaf family, their MP and a family friend.
"They updated the minister about the on-going investigation into the murders.
'No jurisdiction'
"We continue to provide consular assistance to them.
"This tragic event happened in Pakistan and so the UK authorities have no jurisdiction over the investigation."
The family, from Nelson, were surrounded and shot several times while praying at the cemetery.
The killings were allegedly triggered by a divorce between Mr Yousaf's son and a girl in the nearby village.
The two men who went on the run are understood to be brothers Naveed and Sheraz Arif.
Their mother, Rafiquat Bibi, was charged with incitement to murder.