Bridge player admits stabbing wife in Lancashire home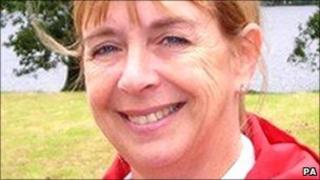 A bridge player has admitted he must have used a knife to stab his wife but denied murdering her.
Stephen Green, 52, is accused of murdering his 57-year-old wife Carole at the flat they shared in Lytham St Annes, Lancashire, in January.
Preston Crown Court heard how she was found with "savage" injuries and 99 separate knife wounds.
Mr Green, of Beach Court, a one-time World Championship bridge player, denies murder and assault.
The court was told of the couple's stormy relationship, Mr Green's heavy drinking and the constant bickering about Mrs Green's playing abilities at Lytham Bridge Club, where they first met.
Fellow card players have told the jury how Mr Green, a former health and safety officer with British Aerospace, would drink heavily which led to "vicious" criticism of his wife who was only a "club player".
When Mrs Green left home for her job at a legal firm in Manchester on 15 January this year, she locked the door behind her, but her husband thought she had taken his keys deliberately, the court heard.
He thought she may have locked him in so he could not go out to get drink, so he then tried to use a drill to open the door but failed.
Mr Green said he had drunk half a bottle of gin or vodka during the day.
He said when his wife returned home at about 7pm, "out of the blue" she said she wanted a divorce.
Mr Green claims she went to stab him with a knife in the lounge of their flat, but he fell on top of her and the weapon was forced into her back.
But he said he could not remember stabbing his wife in the struggle.
'Memory loss'
He told the jury the next thing he recalled was his wife being dead on the floor and in "shock" he plunged the knife into her corpse saying: "Why? Why? Why?"
Stuart Denney QC, prosecuting, asked him why he had "a convenient loss of memory".
Mr Green replied: "I can only assume I completely lost control in that incident."
He said: "I have no recollection. I have obviously used a knife on my wife. I killed my wife but I did not murder her."
The court heard how Mr Green left the flat to buy vodka, then "sat in the flat and drank for three days", next to his dead wife.
He was found by detectives three days after the stabbing, lying in the bath at the flat with cuts to his wrist.
The trial was adjourned until Monday.