Award after Blackpool firefighter's rescue bravery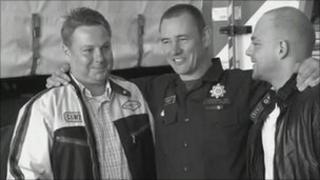 A firefighter whose snap decision saved the lives of a family trapped on the roof of a burning building in Blackpool has been given a top bravery award.
Dean Seaward climbed a ladder through smoke without breathing apparatus to reach the three people after an arson attack on a takeaway below.
Andrzej Jakubowski, his wife Katarzyna and son Michal were led down to safety in November 2008.
Mr Seaward told the BBC he was "just doing his job".
The firefighter met the family on Tuesday for the first time since the rescue.
Firefighters were called to the fire at the Maryam takeaway on Lytham Road, South Shore, in the early hours of 25 November 2008.
They were told that a family from the first-floor flat had climbed on to a roof to escape the flames, cutting off any escape route.
Crews could not see the roof because of the dense smoke generated by the fire, but fearing the family might jump or fall, Mr Seaward decided he had no time to get into his breathing gear and scrambled up the ladder.
Lancashire Fire and Rescue Service said the decision saved the lives of the Jakubowski family.
The Queen's Gallantry Medal is awarded for exemplary acts of bravery and fewer than 600 have been handed out since its introduction in 1974.
Asked how he felt about the honour, Mr Seward said: "Basically I did my job that every firefighter in the county would do. I don't feel I've done anything special really.
"It has come as a big surprise to me really. I feel really deeply honoured and proud.
"But I am part of a team as well so it's not just my actions on that night, it should reward the actions of the other crew that was there as well, because I wouldn't be able to carry out those actions without them."
Chief Fire Officer Peter Holland said: "The lives of a mother, father and son were saved by the quick reactions of the fire crews involved and in particular the sheer selfless actions of firefighter Dean Seaward."