Lancaster Castle prison 'may become tourist spot'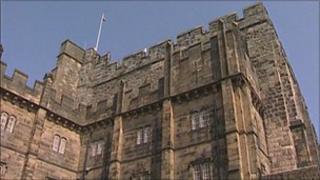 Lancaster Castle prison could close and become a tourist attraction, it has emerged.
The category C prison houses 240 inmates in a medieval castle. The Ministry of Justice (MoJ) says it is "outdated" and expensive to run.
It is in discussions with the Duchy of Lancaster, which owns the site, and the local council.
Stuart Langhorn, leader of Lancaster City Council, said he wanted it to become a tourist attraction.
'Excellent site'
Mr Langhorn said: "We have been talking as a council about encouraging more people around the Castle Hill area.
"It is an excellent site which attracts visitors to the district and could do more."
A MoJ spokesman said prisoners would be placed in more suitable accommodation and staff deployed elsewhere.
He said: "As the previous Chief Inspector of Prisons made clear, it is difficult to run a modern training prison in a medieval castle.
"We need prisons to be places where staff are able to effectively rehabilitate prisoners to stop them reoffending, and where capacity requirements are met more efficiently to improve value for money for the taxpayer."