Chance sighting in London led to Blackburn arson gang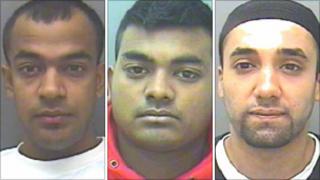 "The heat was absolutely fierce. The smoke filled whole rooms. The chances of them escaping were absolutely zero."
When Det Supt Neil Hunter began investigating the horrific murders of Abdullah Mohammed and his wife Aysha in a fire at their Blackburn home the motive was a mystery.
Why would a much-loved family man, a pillar of the local community, be targeted by arsonists?
It took a grainy CCTV picture of a car, a leap of faith by detectives and a chance encounter on a dual carriageway 250 miles away in London to solve the puzzle.
In the days after the horrific death of Mr Mohammed, detectives scoured the area around his London Road home looking for clues.
It led them to a CCTV camera focused on a rear road which had captured an image of a dark hatchback vehicle and three "shadowy figures" walking towards the house.
Detectives decided to focus their inquiry on finding the vehicle, but struggled to even identify the make of the car - a registration plate was out of the question.
Luckily, about five minutes after arsonists had poured huge amounts of petrol though the Mohammed family's letterbox, an automatic number plate recognition (ANPR) camera on the outskirts of town picked up a dark VW Golf driving by.
"That led us down to London and subsequently to identify Junaid [Mohammed] Miah, Sadek Miah and Habib Iqbal," said Mr Hunter.
"We made a leap of faith that that was the vehicle we wanted and showed an interest in it, and I think with the knowledge and experience I had around me it turned out to be a good call."
The VW Golf was registered to Sadek Miah's mother and regularly used by her son. The problem was the registered address did not exist, leaving detectives struggling to find it.
"You can imagine how busy London is on a Wednesday night, well they [detectives] were driving down a dual carriageway and by chance saw the vehicle travelling in the opposite direction," Mr Hunter added.
Motive question
The driver turned out to be Sadek Miah, who was swiftly arrested, and inquiries led detectives to the other members of his arson gang.
But once again, the murder inquiry team was faced with the question of motive. Mr Mohammed was a family man, a prominent member of the local mosque and had no enemies. Why would three men, unknown to him, travel from east London to violently set fire to his home?
The answer came from their supposed alibi. All three men claimed they had travelled to Blackburn to repay money they owed to a fourth man - Hisamuddin Ibrahim. The only problem was, Ibrahim denied it.
"I think it's a story that the four of them had got together to tell and unfortunately he bottled it and went off script. As a result of that the three in custody realised that the gloves were off and they then said, 'Right, OK, what actually happened was this'."
What emerged was a tale of premeditated murder carried out on the orders of one man - Hisamuddin Ibrahim.
He had recruited his friends from London to travel 250 miles to set fire to the home of Mo Ibrahim, a man of no relation who he wanted dead for having an affair with his married sister - Hafija Gorji - and damaging their family's honour.
The Mohammeds were the innocent victims of a bungling gang who had simply set fire to the wrong house.
Their intended target lived at 135 London Road; the Mohammeds at number 175.
"We do know from the CCTV that they were driving around the block on three or four occasions and it may well be that they were a little bit unsure before they decided on which particular house - and tragically they chose the wrong one," said Mr Hunter.
Mr Hunter branded those who started the fire as "idiots" and, while describing their act as "pre-planned and premeditated", the detective reserved his most scathing judgement for Hisamuddin Ibrahim.
"He's the planner. He's the one who's co-ordinated and orchestrated the offence... Without his input this offence wouldn't have been committed. So he's probably the one that holds the most responsibility above everybody," he added.
Nine months on from the fatal fire, the local community is still coming to terms with the tragedy that unfolded on their doorstep. For the Mohammeds' extended family, the nightmare goes on.
"There can be nothing worse than parents both dying at the same time, orphaning young children who now have to be brought up by the extended family - my heart goes out to them," Mr Hunter added.