Man, 90, heads family swim team in World Championships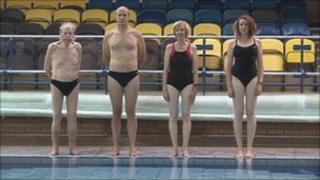 Three generations of the same family - including a 90-year-old grandfather - are taking part in the FINA World Masters Swimming Championships.
The Pratts, from Preston in Lancashire, are among 6,000 competitors to fly out to Gothenburg, Sweden, in August.
Jim Pratt, 90, his son Andy, 52, daughter-in-law Heather and granddaughter Jude have all achieved the qualifying times.
"I want to go out there and cause a bit of mischief," the nonagenarian said.
All of them have been hard at training, with the oldest Pratt adamant he will wear his swimming trunks from decades ago.
The former RAF spitfire pilot and jam-maker, who will be doing breaststroke in Gothenburg, has been a competitive swimmer since the 1940s.
'Totally mental'
"It keeps me occupied," he said, "Everyone has a sport they like and I've just kept up with mine.
"I'm going to carry on competing until I'm at least 100."
It was the idea of his son, who will be participating in the butterfly events, a superintendent with Lancashire Police.
"Everyone thinks we are a little bit crazy, but I think they're a little bit jealous as well.
"There's not many people that can get a whole family together for an event like this," he said.
The FINA World Masters Swimming Championships was established in 1986 and attracts people of all levels and abilities.
Each race has different qualifying times for different ages. For example, a 30-year-old would have to swim a 50m front crawl race in at least 28.8 secs, whereas a competitor three times their age would have 1 min and 15 secs to qualify.
The youngest Pratt, Jude, a youth worker, said: "It is totally mental but I've been training hard and we've all been getting faster."