Man jailed for 'one punch' killing in Blackpool pub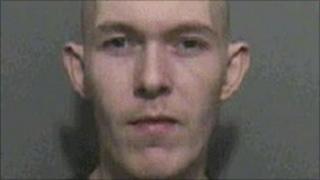 A man who killed a father-of-one with a single "ferocious blow" during a pub row, has been jailed for three years.
William East, 23, mistakenly thought the victim, Tony Pepper, 45, was a man who had been aggravating his sister and went to confront him at the Devonshire Arms, Blackpool, in January.
He punched Mr Pepper and he fell backwards and cracked his head on the pavement, Preston Crown Court heard.
Mr Pepper was taken to hospital but died two days later.
He had suffered a fractured skull and both bleeding and bruising to the brain.
The court heard that the defendant who had drunk four pints of lager, texted his sister when he saw Mr Pepper but she told him the matter had been resolved.
The pair then accidentally bumped into each other as they went to leave the pub, which caused East to lose his temper.
A passer-by said Mr Pepper was standing passively with his arms by his side when East landed a "ferocious blow".
Mr Flewitt said the defendant later told his sister: "I have done something naughty, I have hit him once.
East, of Onslow Road, Layton, handed himself into the police the day after Mr Pepper died.
He initially denied manslaughter but later changed his plea to guilty shortly before a scheduled trial.
'Senseless act'
A statement from the victim's mother, Kathleen, said: "One senseless act of violence has changed us forever and deprived a daughter of a father.
"He was someone who always made everyone laugh. We love and miss him always.
"The irony was that Tony was such a happy-go-lucky man with a gentle nature and the last person to be involved in violence."
Sentencing, Judge Anthony Russell QC said: "It was an inexcusable and inexplicable loss of temper. It was a single punch but it was delivered with a degree of deliberation."
Mark Stuart, defending, said: "Mr Pepper was wholly blameless in relation to this matter. The defendant acknowledges he behaved in a disgraceful way which he now very much regrets.
"His remorse and shame are very apparent. He has said that even if Mr Pepper had been the right person there was no reason to react in the way he did."