Blackpool hospital starts MSSA superbug screening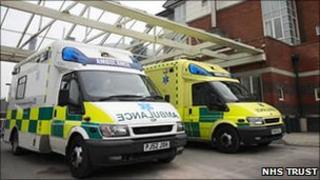 Patients at Blackpool Victoria Hospital are being routinely screened for a superbug in a bid to cut infections.
Blackpool, Fylde and Wyre Hospitals NHS Foundation Trust began testing for the Meticillin-Sensitive Staphylococcus aureus (MSSA) bacteria on Monday.
Swabs taken from the newly-admitted are processed and results fed back to the ward within two hours.
Similar screening arrangements for MRSA introduced in 2008 resulted in an 80% drop in infections, the trust said.
By picking up MSSA early, the trust can said it could start optimum treatment early - improving quality of care to the patient.
Any patient admitted as emergencies will be tested.
Dr Nick Harper, director of infection prevention, said: "We are delighted that we are now able to introduce this very important infection prevention programme for MSSA.
"It has worked extremely well for MRSA where we have seen massive reductions in these infections.
"MSSA is around five times more common than MRSA so we are hoping to see an even greater impact for a much bigger group of patients.
"Hospital infections are one of the biggest areas of public concern. Patients can be reassured that eliminating hospital acquired infections is a key priority for the trust."
MSSA is a type of bacteria which lives on the skin and in the noses of about one in three people, the trust said.
Although normally harmless, the bacteria can cause an infection when it enters the body and can lead to serious infections such as septicaemia.