Blackpool rolls out 160 more hire bikes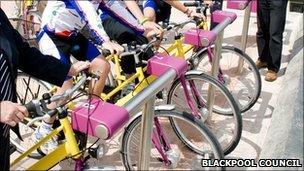 A further 160 bicycles are being rolled out across Blackpool to boost the resort's hire-a-bike network.
The bikes are currently being put together and safety tested by engineers after arriving at the council depot last week.
They will then be distributed at the resort's 25 cycle hubs, which are mainly along the promenade.
Since the launch of the £1-an-hour scheme last year, the bikes have been redesigned to make them more robust.
Blackpool Council said the front baskets had been made stronger, protection from the chain had increased and the dynamo lights had been made more durable.
Gavin Baxter, the council's Cycle Blackpool project manager, said the aim was to get more people in the resort active.
"Short journeys to the post office or local shops are actually done quicker by bike and then there are the parks and promenade that everyone should enjoy - and there's no better way to do that than by bike.
"Everyone knows the health benefits of using a bike and knows that it's cheaper than a car and easy.
"Hire-a-bike is a significant step towards providing convenient, cheap and easy access to an attractive, well-maintained bike for everyone living in and around Blackpool."
Over the next month, more cycle hubs are also being installed across the town to bring the total number to 70.
Cyclists can access the bikes by buying a day ticket for £8, which gives riders unlimited access to bikes at any location.
Alternatively, they can use a top-up card which allows users to hire a bike for £1 per hour with the first 30 minutes free.
Eventually, the council hopes to have 500 of the hire bikes stationed around the resort.
Related Internet Links
The BBC is not responsible for the content of external sites.