Cautious welcome to Blackpool schools approval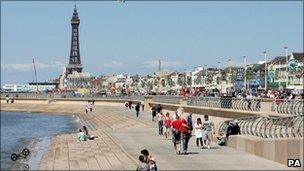 Officials in Blackpool have welcomed the government's decision to green light three new schools in the resort - but warned that more needed to be done.
Highfield Humanities College, Mountford Centre and St Mary's Catholic College were approved late on Friday by the Schools Secretary Michael Gove.
But a number of other projects are still awaiting the outcome of the government's spending review.
Many schools are no longer fit for purpose, resort officials believe.
Mr Gove announced he was axing the Building Schools for the Future (BSF) scheme a month ago, but gave the green light for projects passed the financial close stage.
Blackpool's three projects were sample schools - pilot projects in local authorities which had yet to start wider building programmes.
They were among 33 projects across the country approved on Friday because they had reached a crucial stage of development.
Carl Baker, assistant director of Transforming Schools in Blackpool, said officials were delighted there sample schools were being given the go-ahead.
"I would fully support the government wanting to review how schools are built and the procurement process," said Mr Baker.
"But when authorities have got to the end of the line, have appointed their preferred bidders and have the constructors waiting to start building in three months time, then there is a danger of throwing the baby out of the bath water.
"Clearly we have to get our special schools - Woodlands and High Furlong - addressed very shortly and so we are looking to the comprehensive spending review to see what the announcements are for schools capital for the rest of our capital programme.
"Unfortunately, as well as the condition of the buildings deteriorating the designs are no longer fit for purpose and we have to change it."
Despite welcoming the announcement, Gordon Marsden, the Labour MP for Blackpool South, said the whole issue had been handled badly.
"Basically they [the government] told schools who hadn't got the project that they'd got it and vice versa.
"But if I look at the situation in Blackpool of course it's great for Highfield and its great for St Marys but it's not so great for the other schools and colleges.
"And they still have the same issues about transience, about poor school buildings, about the things that actually meant they were included in this project in the first place."
The outcome of the government's comprehensive spending review - and therefore the fate of other schools projects - is expected to be revealed in October.
Related Internet Links
The BBC is not responsible for the content of external sites.