Veteran fury at Blackpool memorial sex act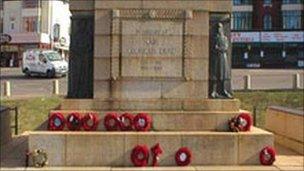 War veterans are calling for a woman who urinated and performed a sex act on Blackpool's war monument to be jailed.
Wendy Lewis was convicted in her absence of outraging public decency at Blackpool Magistrates' Court on Friday.
The 32-year-old, of Princess Street, who failed to appear in court, was caught on CCTV relieving herself before performing a sex act on a man on 7 May.
Ian Coleman, president of the town's British Legion, said: "It's a sacrilege to those who didn't come home."
He called for the magistrates to jail her and not just "give her a slap on the wrists".
"In the past two years we have had at least four incidents when the memorial has been desecrated.
"Swastikas have been daubed by the names of our brave men who fought to give us the freedom we have today - a freedom which some, unfortunately do not deserve."
Several ex-servicemen and women gathered outside Blackpool Magistrates' Court to show their disgust at Friday's hearing.
They have also stood on the court steps in honour of their fallen comrades in response to other court cases involving the desecration of war monuments in the town.
Mr Coleman added: "We want the court to set an example to stop this from happening again.
"A few years ago we had rangers patrolling the area near the monument but now we just have CCTV.
"To be honest, we just need people to have a decent attitude and respect for mankind."
A warrant has been issued for Lewis' arrest.
Related Internet Links
The BBC is not responsible for the content of external sites.