Ex-Blackpool chairman Karl Oyston in bankruptcy hearing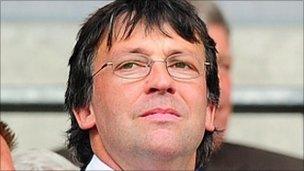 Former Blackpool chairman Karl Oyston is involved in a bankruptcy hearing, it has emerged.
Lancaster County Court confirmed a judge is considering bankruptcy papers involving the 43-year-old, who resigned as chairman and director on Wednesday.
Mr Oyston will stay on as acting chief executive of the newly-promoted Premier League club until the end of the season or until a replacement is found.
A spokesman for Blackpool Football Club declined to comment.
Mr Oyston had admitted to being disillusioned with player agents' influence in the Premier League before his resignation.
In August he revealed he had told the club's board he would resign if they disagreed with his approach to the club's return to the top flight.
Blackpool manager Ian Holloway said he had not spoken with Mr Oyston about his decision, but was adamant it would not change things at Bloomfield Road.
"For this club not to have him involved in it is ridiculous and he will be here, doing the same job," Mr Holloway said.
"It might be a different title, but he is yet to talk to me about it and I don't really care, because I wouldn't have signed with this club if he wasn't going to be doing the things that he does.
"I am sure he will do them, whatever title he has got or is given. This place won't change and neither will I."
If Mr Oyston is declared bankrupt, under Premier League rules he would not be able to be a chairman or director of any football club.
The Premier League brought in its "fit and proper person" test in 2004 to try to prevent clubs from being taken over by dishonest owners.
It applies to people wishing to become directors or take a shareholding of more than 30%, and primarily relates to an individual's criminal record or whether they have been bankrupt.
Related Internet Links
The BBC is not responsible for the content of external sites.