Blackpool sees rise in visitor numbers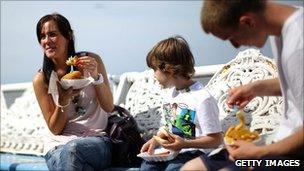 Airline strikes, volcanic ash and the UK recession have helped boost the number of people visiting Blackpool, council figures suggest.
The resort experienced a decline in visits between 1998 and 2008 from about 13 million a year to 10 million.
By the end of 2009, that figure had risen to 12 million and figures for January to April 2010 suggest a 24% increase on the same period last year.
The authority said the rise followed an effort to attract more families.
Blackpool Council's figures record single visits to the resort, which includes day trips as well as overnight stays and longer holidays.
But although the Lancashire town attracts a high number of stag and hen parties, the authority said its Pleasure Beach, tower and illuminations also pulled in family groups.
Alan Cavill, assistant director of tourism and economy, said: "We're seeing a significant increase in the number of families.
"What we've tried to do is drive up the quality of the resort, because we believe that quality doesn't alienate anybody.
"What we've seen as a result of that is we've had far more people come who've never been to Blackpool before and perhaps would never consider Blackpool, because of the kind of events we're putting on and the kind of quality we've brought."
There were about 9.8 million visits to the resort in 2007, compared to about 20 million a year in the 1980s.
A number of projects are under way in the town in a bid to revitalise the resort, including the £220m Talbot Gateway project.
New hotels, shops and restaurants are planned as well as offices, a supermarket and cafes on a site near Blackpool North train station.
In June, Blackpool was named as the UK's favourite seaside resort by consumer organisation Which?.
Related Internet Links
The BBC is not responsible for the content of external sites.