Leslie Marshall's rape victim hopes nightmares will end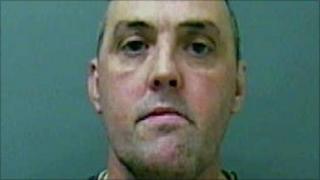 A woman who was raped 21 years ago has spoken of her "sense of freedom" after her attacker was finally jailed.
The woman, who cannot be named for legal reasons, said when she was raped by Leslie Marshall and another man she did not dare look at their faces.
Since the brutal assault in a country road in Burnley, Lancashire, the woman, now aged 43, said she had spent her life fearing the man behind her was her attacker.
Marshall, 51, of Blantyre, Glasgow, is starting a six-and-a-half-year jail sentence after police linked his DNA to the attack.
His victim said she now hopes "the nightmares will stop".
Aged 22, she had been walking through Burnley on the evening of 18 January 1989 after being at a friend's house.
Death fears
A man walked past her mumbling about needing directions before bundling her into the back of a car.
"There was another man in the car, he shut the doors and drove off," she said.
"I tried to scramble to the other side but my attacker grabbed my hands to stop me."
Helpless, she watched as the pair gestured to each other, stopping, starting and reversing the vehicle.
"Then one got out, he looked inside the boot and I thought that is it," she said.
"A crowbar is going to hit me on the back of the head and I'm dead."
Instead, she was raped in the the car, which had stopped in the Robin House Lane area of Briercliffe.
Afterwards they dumped her in a country lane and she sought help at a nearby house.
While Marshall escaped prosecution, his victim turned to drink.
"It was hard at the beginning, I did start drinking a lot, I was always looking over my shoulder," she said.
"I got to the point I didn't dare look people in the face, I would be thinking 'Is it you? Did you rape me?'
"It could be the bus driver, the man sat behind me in the cafe, is it the man who has just asked me for directions?"
She said she felt relieved when she received a phone call from Lancashire Police in October 2009 to tell her they had arrested one of the men who raped her.
DNA match
"There was an overwhelming sense of freedom," she said.
"Maybe the nightmares would stop, maybe the fear would dissipate."
Marshall had been arrested in Glasgow on an unrelated matter but a DNA sample was loaded on to the National DNA Database.
Lancashire Police's cold case investigation team, which had reopened the case in 2008, was able to link Marshall's DNA to the attack.
He then admitted carrying out the rape.
His victim said: "He's not stood at the end of the street and he's not waiting in the car anymore.
"I don't care what sentence he got, it's just the relief knowing someone has been caught for it."