Children's services hit worst in £22m cuts drive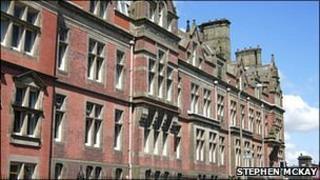 Children and young people's services look set to be hit hardest by a drive to cut £22m at Lancashire County Council, a report suggests.
The department is one of four asked to save cash after the government axed some of its grants.
About £5.2m will be taken out of the children's budget, which will hit some children's homes jobs, and £4.3m from environment expenditure.
Despite the cuts, the council said the services would "remain a priority".
The authority must make the savings in its 2010-11 budget and said they had been imposed by cuts in grants announced by the government in June.
Each directorate has been asked to produce savings plans, which include savings measures such as:
An overall £5.2m reduction in the Children and Young People's budget
A £1m reduction in spending on schools
A £300,000 reduction in funding to the Connexions careers service for young people
A £470,000 funding cut for the Youth Opportunity Fund, which supports youth projects in local communities
Saving £400,000 by reviewing staffing of council children's homes
Despite the cuts to children's services, the department is actually facing a £6.6m reduction in its grant.
Council cabinet members will be asked to approve plans to put £750,000 back in from the corporate expenditure budget.
Further savings must still be identified to make up the shortfall.
The council said it had already made £24m in savings for the current financial year, before the grant cuts were imposed in June.
Council leader Geoff Driver said: "Unlike many councils, we don't intend to simply cut services where we're losing specific funding, because we believe some of these services are a priority for local communities.
"Instead we have asked managers to find ways of protecting them by saving money from non-frontline activities.
"I am very clear that I will do my absolute utmost to protect services for the most vulnerable in the county.
"With work we've already started to streamline the council, I am confident that the council will emerge from this as a much leaner and fitter organisation, better able to provide services that residents want, in places where they are needed."
Councillors are being asked to approve a full breakdown of the savings at a cabinet meeting on 9 September.