False eye transforms Accrington boy's life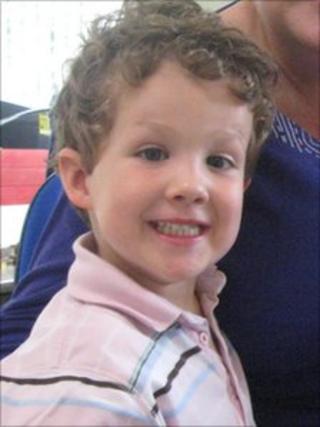 A four-year-old boy from Lancashire, who lost an eye after developing cancer, has had his life transformed by a false eyeball made in Blackpool.
Edward Cassidy from Accrington was diagnosed with Retinoblastoma when he was 18 months old and had his eye removed.
He received a false eye that was hand-made at the National Artificial Eye Service (NAES) on Bristol Avenue.
His mother, Melanie said she felt like she "had got my baby back".
The false eyes, which are produced by a team of 18 technicians for patients across England, are each individually created.
Photographs of patients' remaining eyes are referred to to ensure a perfect match.
Red embroidery thread is painstakingly untangled into individual fibres to simulate tiny blood vessels within the eye.
Armed forces
Mrs Cassidy said: "When Edward was diagnosed it was like being run over by a truck.
"When we were told he would have to have his eye removed, we were very worried for his appearance for the rest of his life.
"But when he was fitted with his first temporary eye it made me cry because it was like I had got my baby back," she said.
Ken Barratt, NAES production manager said: "The eyes are hand-made, hand-painted and every one is bespoke - It's not a mass production line."
The NAES was established at the resort's civil service base during the war to originally provide spectacles and false eyes to members of the armed forces.
It provides eyes to patients at 16 main hospitals and 50 outreach clinics across England.