Hopes remain for closed Colne to Skipton railway line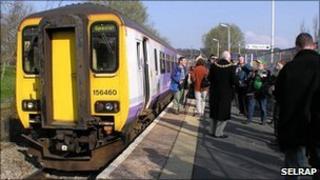 A campaign to get the disused railway line between east Lancashire and North Yorkshire reopened remains on track, its backers have said.
The 12-mile (19km) line between Colne and Skipton was removed in 1970.
Campaigners accept the government will not fund the line but have identified alternative sources, such as the proposed £1bn regional growth fund.
Network Rail said it broadly supported the project but could not offer any financial backing.
The Skipton, East Lancashire Rail Action Partnership (Selrap) believes the line would provide an essential alternative to existing full capacity trans-pennine routes.
Spokesman Andy Shackleton said: "We firmly believe that funding can be found.
"We don't for one moment believe that there will be public money pumped into this, but we have all sorts of options for the rebuild."
Selrap's main hope lies with the regional growth fund, a £1bn pot of government money which will allow groups to bid for money for plans which increase investment, jobs and growth in their area.
The group also hopes to lobby the Department for Transport (DfT) to make rebuilding the line a condition of the trans-pennine franchise renewal.
Representatives are also talking to train companies and developers with a track record in successfully re-opening old railway lines.
"Pennine Lancashire is an economically deprived area and it needs connectivity if it's going to grow," Mr Shackleton added.
"What we are offering is an opportunity for the first time for almost 50 years for the people of Pennine Lancashire to get to Leeds and Manchester relatively quickly."
A Network Rail spokesman said: "We are broadly supportive of the project but we are not funded to deliver it so the scheme does not figure in our current plans.
"Should third party funds become available we would be happy to work with the funders on progressing the scheme."