Blackburn council reinstates PCSO funding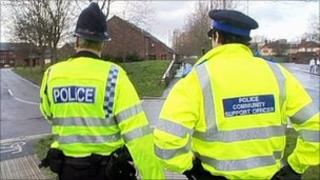 Funding for 20 police community support officers (PCSOs) has been reinstated by Blackburn with Darwen council's new Labour leadership.
The party regained control of the council after a vote of no confidence in the ruling coalition this week.
The coalition had announced the PCSO posts would go by October - but the decision has now been reversed.
Council Leader Kate Hollern said the council wants to protect the community's frontline services.
"There needs to be changes in the priorities of the council as we prepare for the financial challenges ahead," she said.
'Protect communities'
"Much more focus will be given to the frontline services that directly make a difference to people's lives such as safety in our neighbourhoods, leisure and wellbeing.
"Whilst we will have to make savings we will always aim to protect our most deprived communities."
Lancashire Constabulary has been informed and has already passed on the news to staff.
The posts are part-funded by the council and Home Office grants.
Ch Supt Bob Eastwood, Commander at Eastern Division, said: "PCSOs work for both organisations and do a splendid job within all our neighbourhoods.
"I have been overwhelmed by the number of letters of support we have received for PCSOs since we were told that funding would be withdrawn so I am delighted for the staff and the communities they serve."
The coalition had also proposed to close Shadsworth Leisure Centre and cut funding for community centres in an attempt to prepare for a reduction in grants given to local government.
The council has now called a meeting with members of the Shadsworth Users Group on Tuesday, to discuss options for extending services at the leisure centre.
The closure or forced transfer of nine community centres has also been stopped.