Appeal to bring Lancashire plunge man home from Cyprus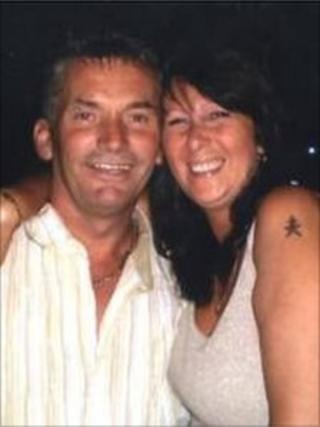 A Lancashire family are trying to raise money to bring their loved one home after he suffered extensive injuries falling from a roof in Cyprus.
Russell Dawes, 47, had been fitting air conditioning equipment in a heatwave when he fell 10m (30ft) last month.
He has been in hospital in Nicosia for the past five weeks. He has brain damage, a punctured lung, several broken ribs and fractured cheekbones.
It will cost £21,000 to hire an air ambulance to bring him home.
After spending three weeks in an induced coma, the father-of-three has woken up with bad mood swings which the doctors have said have probably been induced by the damage he suffered to his brain.
His wife, Angela, and his three children have been doing the 100-mile commute from their home near Ayia Napa to the Cypriot capital.
'Breaking point'
His sister, Gina Dancy, said he emigrated from St Annes in Lancashire, to Cyprus for a "new life" with his family.
"They moved out there two years ago but now all they want to do is come back home. The care Russell is getting out in Cyprus is not the same as he would get here," she said.
"Over the weekend his mood reached an all-time low which has been caused by the brain damage he suffered.
"A lot of the personal care has been left to his family out there.
"His 12-year-old daughter and his wife were struggling to keep him still and keep him in his bed so he didn't hurt himself.
"We just never thought this would happen, you never do. Unfortunately he has not got medical insurance so we have to foot the bill to get him home."
The sister added that they were "managing at the moment" but were "getting close to breaking point."
The family have been able to raise £3,000 so far and are keen for more donations.