Locked-in fear for ex-footballer Gary Parkinson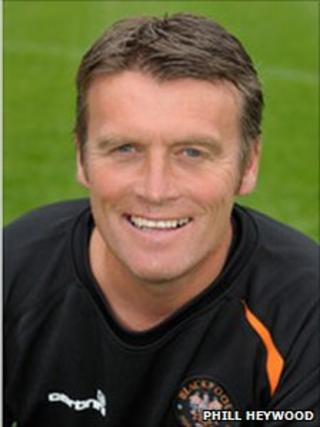 The family of Blackpool FC youth coach Gary Parkinson have been told he may have a potentially deadly paralysis.
The former player, 42, who had stints at Preston, Burnley and Blackpool, may be suffering from locked-in syndrome - a condition which has no cure.
Teesside-born Parkinson is in Royal Bolton Hospital after suffering a major stroke two weeks ago.
His wife, Deborah, said: "Knowing people are thinking of Gary is giving us strength."
Locked-in syndrome is a disease which leaves the patients unable to move, speak or swallow because of a paralysis of their muscles. However, they can be fully aware of what is going on around them.
Many patients do not recover from the condition which can cause pneumonia and thrombosis and lead to the patient's death, often within the first four months.
There are a small number of people who have successfully fought the disease, and through rehabilitation and specialist care are able to lead normal lives again.
At the moment, Mr Parkinson's family are trying communicate with him through eye movements and he is currently under the care of a neuro-rehabilitation specialist.
Winning goal
The father-of-three, originally from Thornaby on Teesside, he began his playing career at Everton in 1985 before moving to Middlesbrough, Bolton Wanderers, then the three Lancashire clubs.
Many Burnley fans remember him for his winning goal in their team's division two play-off against Stockport in 1994.
Blackpool manager Ian Holloway dedicated his side's win at Newcastle United last week to the youth coach, known as "Parky".
After the match he said: "We rode our luck with some fantastic saves from Matt Gilks, but some of that was the best I've seen from my boys.
"That was for one of our coaches, Parky, who's really ill at the moment.
"I just want to say to his wife and family we are all giving him our love and that was for him."