Streets closed in Lancaster as police find 'device'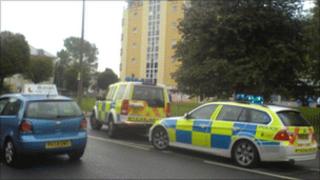 Two people were arrested after the discovery of what police described as an "unknown device" in a property in Lancaster.
Officers found the item as they carried out a search of an address on Lune Street on Wednesday morning.
The Army's Explosive Ordnance Disposal Unit was called out but the package was later declared safe.
A cordon around the street was lifted on Wednesday evening and residents allowed to return to properties.
Officers had been executing a search warrant at the property when the device was discovered at about 0900 BST.
Searches of the building and surrounding area were carried out throughout the day.
Lancashire Police said they had arrested a 34-year-old man from Lancaster and a 33-year-old woman from Morecambe.
They are currently in custody assisting police with their enquiries, said a spokeswoman.
Lune Street, Scale Hall Lane and Morecambe Road were all closed while the device was examined. One lane of Skerton Bridge was also closed to traffic.
About 80 people were moved from nearby buildings Millennium House and Lune House and everyone not moved were asked to stay indoors.
Bob Rushworth, who runs a shop near the scene, said: "All they said to us was just keep in the back of the shop, keep your head down."
At about 2000 BST, Lancashire Police said the cordon had been lifted and people allowed to return to their homes.
No details of the nature of the device - or whether it was harmful - have been released.