Blackburn residents warned over replacement bin charges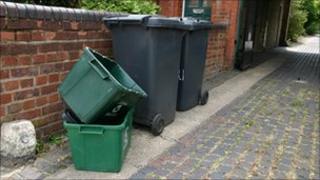 People living in Blackburn will face a charge of £29 if they lose their wheelie bin.
Blackburn with Darwen Council said more than 10% of their wheelie bins go missing or are targeted by vandals each year - costing them £130,000 a year.
The authority is to start charging householders for a replacement bin from 4 October.
It said introducing the charges may mean other services could be saved from budget cuts.
Peter Hunt, director of environment, said: "This decision was made by the previous administration but small savings like these will all add up and help us protect services that people tell us they value and need the most.
"We will look at the impact and make any changes that need to be made."
Residents are being asked to mark their bins with their address and to make sure they are brought back off the street after collections.