Catholic church to stop running Blackburn school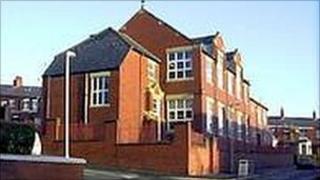 The Roman Catholic church is to step down from running a Lancashire school after a decline in the number of Catholic pupils attending.
The diocese has taken the decision after the number of Catholic children at Sacred Heart RC Primary School in Blackburn dropped from 91% to 3%.
A major factor in the change has been the substantial increase in the number of Asian families moving to the area.
Blackburn with Darwen Council said there would be no disruption to pupils.
It will now consider applications from organisations interested in taking the school over.
Harry Devonport, the council's director of universal, targeted and learning services, said: "The decision to cease to maintain the school as a Catholic school has been taken by the RC Diocese.
"The recommendation is to establish a new school which will be looked at by the executive board after an extensive consultation has taken place."
He added: "This is merely a technical change which will involve the same staff. There will be no disruption for our children at this school. Our main focus is ensuring that pupils have access to quality education.
"We will issue letters to parents to explain the process."